Thich Quang Duc self immolates himself to be the "flame of light" so that others can "see more clearly" that war is no answer to any problem
David Halberstam in the NY Times witnessing the self-immolation wrote:
I was to see that sight again, but once was enough. Flames were coming from a human being; his body was slowly withering and shriveling up, his head blackening and charring. In the air was the smell of burning human flesh; human beings burn surprisingly quickly. Behind me I could hear the sobbing of the Vietnamese who were now gathering. I was too shocked to cry, too confused to take notes or ask questions, too bewildered to even think … As he burned he never moved a muscle, never uttered a sound, his outward composure in sharp contrast to the wailing people around him.[27]
"No news picture in history has generated so much emotion around the world as that one."  JFK
   Around 350 monks and nuns marched in two phalanxes, preceded by an Austin Westminster sedan, carrying banners printed in both English and Vietnamese. They denounced the Diệm government and its policy towards Buddhists, demanding that it fulfill its promises of religious equality.[25] Another monk offered himself, but Đức's seniority prevailed.[4]
The act occurred at the intersection[b] of Phan Đình Phùng Boulevard (now Nguyễn Đình Chiểu Street) and Lê Văn Duyệt Street (now Cách Mạng Tháng Tám Street) a few blocks Southwest of the Presidential Palace (now the Reunification Palace). Duc emerged from the car along with two other monks. One placed a cushion on the road while the second opened the trunk and took out a five-gallon gasoline can. As the marchers formed a circle around him, Duc calmly sat down in the traditional Buddhist meditative lotus position on the cushion. A colleague emptied the contents of the gasoline container over Đức's head. Đức rotated a string of wooden prayer beads and recited the words Nianfo ("homage to Amitābha Buddha") before striking a match and dropping it on himself. Flames consumed his robes and flesh, and black oily smoke emanated from his burning body.[25][26]
*****
When school children learn about Vietnam they are told that it was to prevent the "Domino Effect" of Communism coming down from Imperial China. A complete lie. What is not told was that we came to the rescue of the French who were having a hell of a time trying to colonize the "savages", as Renault and other European concerns, wanted the Vietnamese rubber trees for tires and other commercial interests.
Lyndon Baines Johnson had pledged, as the major part of his platform to remain President of the U.S., that he would get us out of Vietnam and was elected after taking over the presidency after JFK was killed. JFK started his plan to remove troops from Vietnam thousands of troops from Vietnam and was assassinated. One year to the day that MLK gave is "Beyond Vietnam" speech, calling out the Military/Industrial/Media Complex, he too was assassinated.
So LBJ needed an excuse and, ever so conveniently, along comes the Tonkin Gulf incident.  It is all but acknowledged as historical fact that U.S special forces created the Gulf of Tonkin false flag to allow the President to re-escalate the war to serve his true masters of the wealthy elite with names like Rothschild and Rockefeller.
This is why false flag events like 9.11 have continued and will continue because the powers that be still get away with it and are not help accountable for their actions.  The people of this country still do not seem to care enough to do anything about the fact that our government continues to falsify, to lie, to deceive, to willingly mass murder anyone in their way, and to allow our own young men and women go to die for their own globalist agendas.
So we can and should fully expect more false flags until we the people demand accountability to those bastards who kill without conscience and justice served whenever these blatantly obvious inconvenient truths become known.
The information presented below is still relevant. There are many among us who still know vets from that era who are suffering and family members who were lost and left in Asia after the war, including my family, as you can read below.
Additionally, as you read the real reasons we "bugged-out" of Vietnam, after some 75,000 of our GI's died, after we napalmed the crap out the innocent Vietnamese leading to their curse of generational cancer, and then left thousands of our own in POW camps in Vietnam, Cambodia and Laos.  Worst of all, still to this day, we refuse to even acknowledge that over 2 million Vietnamese and 1 million Cambodians and Laotians were killed by our highly advanced killing machines over a war that they had no defenses and was based on lies, deception and falsehoods.
That is 3 million people.  And for what?  There had to be a lesson learned. Or not. For we continue our imperialist march towards a global monarchy.
The picture on the header at the top of this page represents the ultimate sacrifice made by a Buddhist Monk during the height of the U.S. intervention in Vietnam.  He keep his mudra throughout the entire torching of his body.  After his flame was put out they found that his heart muscle was still in tact and now displayed in a museum in Ho Chi Minh City.
"The body was re-cremated during the funeral, but Đức's heart remained intact and did not burn.[4] It was considered to be holy and placed in a glass chalice at Xa Loi Pagoda.[5] The intact heart relic[4] is regarded as a symbol of compassion."
For further understanding of the hidden Agenda behind the Vietnam war that continues on its path today,  please read Daniel Ellsberg's incredible book 'Secrets' and a fairly new book 'Why JFK Died and Why it Still Matters".  Also watch the 'Fog of War' DVD by then Sec. of Defense, Robert McNamara as well as the DVD 'Beyond Treason' about the biological chemical agents we supplied Sadam Hussien of Iraq to use against Iran that also caused great illness to the GI's who dealt with the secret bioweapon cache.
****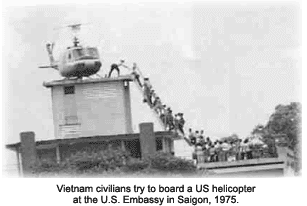 In one feat of ingenuity, the pilot of a small observation plane buzzed the deck of the Midway and dropped a note asking them to move the helicopters so he could land. The note was signed, "Please rescue me".

~~~
"To call war the soil of courage and virtue is like calling debauchery the soil of love."
~ George Santayana
by Joel Geier

Our army that now remains in Vietnam is in a state approaching collapse, with individual units avoiding or having refused combat, murdering their officers and noncommissioned officers, drug-ridden, and dispirited where not near-mutinous Conditions exist among American forces in Vietnam that have only been exceeded in this century by… the collapse of the Tsarist armies in 1916 and 1917.

– Armed Forces Journal, June 1971
The most neglected aspect of the Vietnam War is the soldiers' revolt–the mass upheaval from below that unraveled the American army. It is a great reality check in an era when the U.S. touts itself as an invincible nation. For this reason, the soldiers' revolt has been written out of official history.
The army revolt pitted enlisted soldiers against officers who viewed them as expendable. Liberal academics have reduced the radicalism of the 1960s to middle-class concerns and activities, while ignoring military rebellion. But the militancy of the 1960s began with the Black liberation struggle, and it reached its climax with the unity of White and Black soldiers.
A working-class army

Continue reading Revisionist History # 12 ~ Why and How the Vietnam War Really Ended; Yet Really Never Ends for the Vietnamese, Cambodians and Laotians →