"There Comes A Time When Silence is Betrayal"  MLK
Dear All,
Above is a picture of my son and me on our farm a couple years back.
My then wife at the time and I adopted him at birth because the color of one's skin made no difference to us.  We just wanted a child to love and care for and possibly give him a better life than the one his birth mother could offer him.
After nine years with my child I now fear gravely for his future existence and well being as I do for all children.
I fear not just because he is of African dissent and will have to live in this racial militarized police state but because the minorities and progressive liberals still to this day "Hope" that the first black President has not betrayed them all, that they we all have not had such a terrible hoax perpetrated on us by this new Jim Crow, and that the so very many still believe that he is the answer or someone, somehow is going to make it all better they just believe.
And despite the overwhelming evidence presented below, that we all live in a police state in this country and are being run as an open Totalitarian Dictatorship, many hope/change advocates still want to believe the President is being handcuffed by an inept Congress. A belief that all the multi-millionaires of Congress, who rank in popularity consistently below 10% approval by its people, are too stupid and dumb to stop the President from deciding the fate for all.
Until all understand that to resist, to practice open and often civil disobedience, to speak out, to change what must change, nothing will change until their is no one to speak for you, or your children and most white Baby Doomers will die knowing they knew, yet did nothing.
And their children live in total fear, debt servitude and military enslavement.
While they slept. While we all slept.
"I just took action to change the law"
And if this isn't enough proof listen to this UN Speech he gave in September 2014 that he must "make War on War" so we can have "Peace on Peace".  He really, really said this.  To the World.
And our "choices" for the next "election" in 2016 is either a Dicatorship of Clinton's or some 16 years possibly or a Bush Regime of twenty years. Some choice.
Yet the next in power will hold the same Dictator power that Obama now enjoys, and all Presidents to come after that and all will feel the enlavement that was previously reserved for the less privileged, women, Indians and African Americans.
*****
It is roughly estimated that Africa lost 50 million human beings to death and slavery in those centuries we call the beginnings of modern Western civilization…  American slavery [was] the most cruel form of slavery in history…There is not a country in world history in which racism has been more important, for so long a time, as the United States."

– Historian Howard Zinn (PhD, history, Columbia University)
50 million innocent people were torn from their families and brutally put on slave ships from Africa where over 20% on average just died from the harsh conditions across the Atlantic. The rest were sold as slaves to work the plantations of Founding Fathers with names like "Washington" and "Jefferson" and "Adams". They all had slaves. In fact, Thomas Jefferson pledged his slaves when he died as collateral against his massive debt he owed the State.
They were also the richest men in the U.S. at the time, because labor was no cost to their expenses. And when they finished the "greatest document in history" according to Time magazine, the U.S. Constitution, blacks were treated as chattel and declared to be 3/5ths of a person so they could be accounted for simply as "Property".  Women and other minorities had no vote, no choice for scores of years to come.
"What's happening in Ferguson is a reenactment of five hundred years of American history.  It goes back to 1619.  Slaves were brought over, they were tortured, terrorized, treated hideously.  You want to know how they were treated?  Take a look at this morning's New York Times.  There's a very evocative article on ISIS and how it treated Yazidi prisoners.  That's American history.  That's the way our African American population was treated.

 Worse than that, in fact, and for a long period – in fact, as I said, there are only a few breaks in it.  Militarization was one of the techniques of crushing the slave movements, and everything that followed…  Now it's incarceration and militarization of police.  We're reenacting five hundred years of American history.  You have to understand that, and that's hard to deal with, but it has to be faced seriously.  You can argue about the details of what happened in Ferguson, but the background and the general framework is hideously clear.  It should be perfectly obvious to anyone who knows anything about American history.  It's with us all the time."  Noam Chomsky, M.I.T. Professor  (Source)
Never once has this country, in its 235 years of the U.S. creation, have we acknowledged, much less given a blanket apology to, and for,  the the brutal white supremacy treatment of blacks for centuries  in this country.
We of white color get all excited to trace our lineage through the likes of ancestry.com. Yet, if your black, you're lucky if you can trace your heritage to one of the slave ships that your ancestors were captured, chained and made slaves by. Every single black person knows this reality, while most whites remain blissfully ignorant to this fact.
Now the new Jim Crow's, Obama, Rice, Holder, et. al,  have betrayed and spade their fellow brothers and sisters. Once again, just like the plantation owners of old, blacks are being executed, murdered and killed. Yet now, in in living color (pun intended), on national TV, with live video recording and nothing happens to those that kill the unarmed and the innocent of color.
Back then the white corporate slave owners did the whipping and killing themselves and it was legal. The only difference now is the white corporate Man has the police/military force do it for them.
The police get away with complete and utter impunity and immunity from any sort of punishment for the blatant killings of innocents. They are trained now to fear all. That any person could, at any time take their lives. That protecting their lives means more than to protect, to serve, and to provide safety and security for members of the community they are sworn to serve.
To cement their allegiance to corporate power, police are empowered to subsidize their incomes with Citizen Asset Forefeiture laws that allow them to "Stop and Seize", for personal profit by stealing money from cars, totaling over a billion dollars,  without charges even being brought against the victim.
The good news, if you can say that, that the police are color blind when it comes to illegal taking of anothers possessions by force and coercion. (Source)
And the black President remains silent. And the black Attorney General stays silent. And the black leaders in corporate America stay silent. And the black entertainers stay silent…for they are the beneficiaries of these actions as no one can rise to take out their power or speak and have your lifestyle taken away or worse, they all know.
While the powers behind the puppet clink their Dom for their plans to divide, conquer and enslave all goes marching right on as designed, planned and implemented.
*****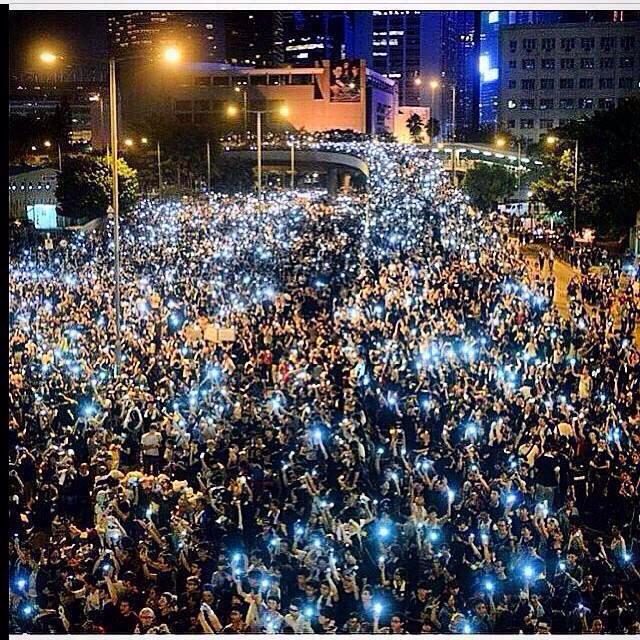 Thousands and thousands protest in NYC for a third straight night.  12.7.13
Recent Murders of Unarmed Black Men by White Police; A Short Recap
Killings by police "reached a record high last year in 2013 [461], while the number of officers killed in the line of duty fell to its lowest level in decades [27]."

*****

AMY GOODMAN: You mention the word "child," Michael, and that is exactly how Darren Wilson described how he felt, he felt like a five-year-old child dealing with — I think he put it, Hulk Hogan. Can you talk about the trove of papers that McChulloch released and that description that Darren Wilson gave of dealing with Mike Brown?

MICHAEL ERIC DYSON: Yes, that is an excellent point to underscore. Mike Brown was six-four-six, and 292 pounds. Officer Wilson is six-four-six, 210 pounds . So, you are hardly a child against a Hulk Hogan. Look at what is being reinforced here. The brawny blustering, as Ann Petry put it, behemoth, This big black man, 18 years old, this big black man who was rising up in the collective imagination of America and in Officer Wilson's site as some kind of demonic force. He literally used the word demon. It was a demon — it looked like a demon coming at me. He is reduced him to a thing. He has made him an animal or less. He has made him a figment of not only his imagination, but the collective imagination of America that has been fearful of the black male threat.
Continue reading President Obama, AG Holder Declare War on Black People →