Be joyful though you have considered all the facts. ~ Wendell Berry
*****
Tech companies' leftover food benefiting S.F. needy
(No Such Thing as "Away". Every City, county and state should have this kind of critical recycling program.)
Catching a glimpse of the Food Runners bicycle courier pulling a trailer fully loaded with trays of food might become something of a downtown San Francisco rite of passage. Food Runners, established by Mary Risley in 1987, takes food that would otherwise be thrown away and delivers it to needy people at Community Awareness & Treatment Services, A Woman's Place, Cityteam Ministries and Door Clinic, among many others. With the amount of donated food now coming in, Risley hopes to expand deliveries to after-school programs as well. A year ago, Risley estimates that Food Runners was picking up 10 tons of food a week; today, that number is up 50 percent, to 15 tons. There are about 100 new donors, and nearly all of them are tech companies – familiar names like Twitter, Zynga, LinkedIn, Uber, Google, Adobe and Airbnb, just to name a few, plus caterers like Cater2Me and ZeroCater that service small startups. "Millennials have found us," says Risley. "Anything you say about the Millennials being out of it is not true. Well, maybe they are out of it, but not when it comes to generosity." ZeroCater, which caters to eBay and FourSquare, among others, estimates that a company usually orders about one pound of food per person. Since the head count varies from day to day and extra food is always ordered, a good amount is left over. That is where Food Runners comes in. The company – be it caterer or restaurant – calls Food Runners. The food gets picked up and delivered the same day. Food Runners' No. 1 message to the public should be clear, says Risley: Don't throw food away.
****
TEACHING 101
How well we Re-Member what we learn by how we are taught:
10 percent of what we read;
20 percent of what we hear;
30 percent of what we both see and hear;
50 percent of what we discussed with others;
80 percent of what we experience personally;
95 percent of what we teach to someone else.
—
William Glasser
****
Researchers Develop Transparent Solar Concentrator That Could Cover Windows, Electronics
http://www.huffingtonpost.com/2014/08/24/transparent-solar-concentrator_n_570…
Scientists at Michigan State University announced this week the creation of a "transparent luminescent solar concentrator" that could turn windows and even cellphone screens into solar-power generators. The material works by absorbing light in the invisible spectrum (ultraviolet and near infrared) and then re-emitting it in the infrared. The infrared light is then channeled to the edge of the clear surface, where thin strips of photovoltaic cells generate the power. Because we cannot see infrared or ultraviolet light, the material remains transparent even while concentrating sunlight. Previous luminescent solar concentrators have been developed, but they emitted light in the visible spectrum, creating a stained-glass effect. "No one wants to sit behind colored glass," Richard Lunt, who leads the lab researching this new technology, said. The new technology is promising, but needs to be made more efficient. Researchers say that the solar conversion efficiency is around one percent. Ideally, this could be increased to more than five percent. Luminescent solar concentrators are less efficient than traditional photovoltaics, which absorb a larger range of wavelengths, but they could allow energy harvesting on surfaces that would otherwise never be used to generate power. The transparent technology could be used in a variety of applications, Lunt said, and its affordability means it has the potential for eventual commercial or industrial use. "Ultimately we want to make solar harvesting surfaces that you do not even know are there," he said. The researchers' findings were published in the journal Advanced Optical Materials in July.
Note: Why isn't the major media reporting this exciting development? For more on this, see concise summaries of deeply revealing new energy inventions news articles from reliable major media sources. Explore a treasure trove of concise summaries of incredibly inspiring news articles which will inspire you.
****
*****
Weather manipulation makes forecasting suspect but if you own the weather channels, then you can predict whatever you want to make it happen …like a Geo-engineered drought in CA again this year.  We'll see.
Why would the Rothschild's be so interested in owning the largest and most recognized weather modeling organization out there? Why would E.L. Rothschild LLC wish to have the controlling interest in the worlds leading provider of interactive weather graphics and data services for television, web, and mobil? Because when you are involved in climate decimating geoengineering programs, you must also control the "forecast" models to cover your tracks.
The scope and scale of the global spraying of our skies can hardly be comprehended. SAG (stratospheric aerosol geoengineering) and SRM (solar radiation management). The massive web of supporting structures for these programs is mind bending. What is even more difficult to understand is how all of this happens in plain sight, and almost none seem to connect the dots.
Defense contractor "Raytheon" does all the "forecast" modeling for the National Weather Service and NOAA.  Lockheed Martin does the modeling for the FAA. Since both of these private defense contractors are up to there necks in weather modification patents and programs, the "forecasts" are more or less the "scheduled" weather. Now, with the Rothschild's acquisition of the dominant private modeling organization, the control of weather "modeling" seems complete. This control of "forecasts" and "graphics" provides for the constant visual conditioning that makes the population more likely to accept the constant spraying and manipulation of our weather as "normal". When the nightly weather "forecast animation" matches what the public sees in the sky, right down to the upper level "haze" or "overcast" from the constant spraying, all seems to correlate, so nothing more is questioned. When the "forecasters" predict a hurricane will make an unprecedented 90 degree turn, and it does, nothing seems wrong. When they say there will be "heavy wet snow" at 40+ degrees, and there is, all appears OK. The global elites have, it seems, "covered all the bases".
****
HAARP Sea-Based X-Band Radar (SBX) platform
HAARP: Weather Control
Is the HAARP Project a Weather Control Weapon?
HAARP: What is it?
HAARP (High Frequency Active Auroral Research Program) is a little-known, yet critically important U.S. military defense project which has generated quite a bit of controversy over its alleged weather control capabilities and much more.
Though denied by HAARP project officials, some respected researchers allege that secret electromagnetic warfare capabilities of the project are designed to forward the US military's stated goal of achieving full-spectrum dominance by the year 2020.
Others go so far as to claim that HAARP can and has been used for weather control, to cause earthquakes and tsunamis, to disrupt global communications systems, and more. They point to major aspects of the program which are kept secret for alleged reasons of "national security." The U.S. patent of a key developer of HAARP and other documentary evidence support these claims. And there is no doubt that electromagnetic weapons capable of being used in warfare do exist. The project's $300 million price tag also suggests more is going on than meets the eye.
According to the official HAARP website, "HAARP is a scientific endeavor aimed at studying the properties and behavior of the ionosphere, with particular emphasis on being able to understand and use it to enhance communications and surveillance systems for both civilian and defense purposes." The ionosphere is the delicate upper layer of our atmosphere which ranges from about 30 miles (50 km) to 600 miles (1,000 km) above the Earth's surface.
The HAARP project website acknowledges that experiments are conducted which use electromagnetic frequencies to fire pulsed, directed energy beams in order to "temporarily excite a limited area of the ionosphere." Some scientists state that purposefully disturbing this sensitive layer could have major and even disastrous consequences. Concerned HAARP researchers like Dr. Michel Chossudovsky of the University of Ottawa and Alaska's Dr. Nick Begich (son of a US Congressman) present evidence suggesting that these disturbances can even be used to trigger earthquakes, affect hurricanes, and for weather control.
This essay is dedicated with caring and compassion to the many who suffered and died in the massive earthquakes in Japan and Haiti, and in the Indonesian tsunami and Hurricane Katrina.
Who Created HAARP?
Dr. Bernard Eastlund is the scientist whose name is most associated with the creation and development of the HAARP project. His revealing website provides reliable information on his involvement with the project. A 1987 patent issued to Dr. Eastlund is titled "Method and apparatus for altering a region in the earth's atmosphere, ionosphere, and/or magnetosphere." In this patent, which sets the stage for HAARP, Dr. Eastlund makes a number of fascinating statements which clearly contradict the claim that it is only being used for research and not for military purposes or such purposes as weather control. Here are a few of key statements taken verbatim from the patent:
[The] temperature of the ionosphere has been raised by hundreds of degrees in these experiments.
A means and method is provided to cause interference with or even total disruption of communications over a very large portion of the earth. This invention could be employed to disrupt not only land based communications, both civilian and military, but also airborne communications and sea communications. This would have significant military implications.
It is possible … to take advantage of one or more such beams to carry out a communications network even though the rest of the world's communications are disrupted.
[This invention] can be used to an advantage for positive communication and eavesdropping purposes.
Exceedingly large amounts of power can be very efficiently produced and transmitted.
This invention has a phenomenal variety of … potential future developments. Large regions of the atmosphere could be lifted to an unexpectedly high altitude so that missiles encounter unexpected and unplanned drag forces with resultant destruction or deflection. Weather modification is possible by, for example, altering upper atmosphere wind patterns or altering solar absorption patterns by constructing one or more plumes of atmospheric particles which will act as a lens or focusing device. Ozone, nitrogen, etc. concentrations in the atmosphere could be artificially increased.
Electromagnetic pulse defenses are also possible. The earth's magnetic field could be decreased or disrupted at appropriate altitudes to modify or eliminate the magnetic field.
****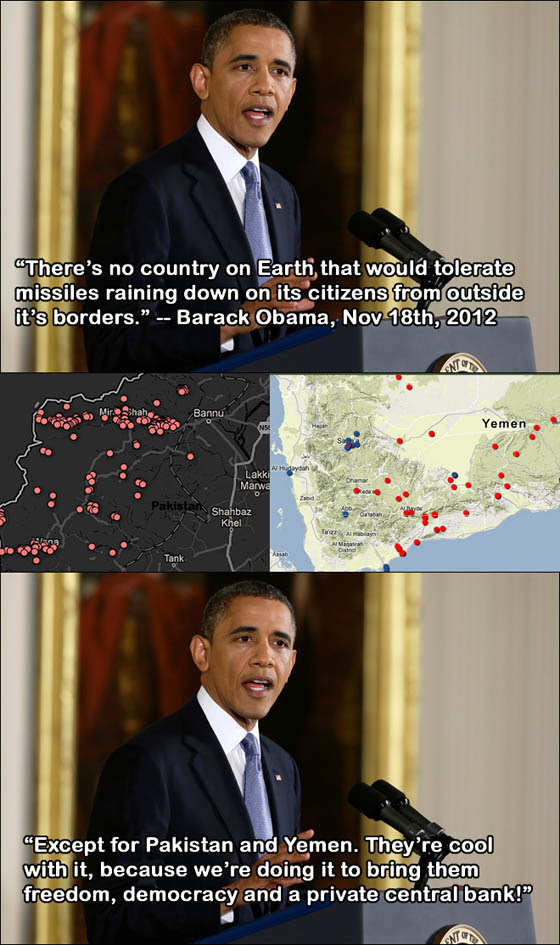 ****
Karma seemingly gave Israel a nibble last week, when a Skunk truck firing on homes in East Jerusalem promptly crashed off the hillside.
While the world reels at the death and destruction meted out to Gaza during Israel's genocidal 'Operation Protective Edge', the video shows a tool Israel used for the daily humiliation of Palestinians – 'skunk trucks'.
Built in 2004, and announced as a 'non lethal riot control' weapon, the Skunk trucks are water cannon which fire a foul and malodorous liquid.
*****
One does not become enlightened by imagining figures of light,but by making the darkness conscious."
Carl Gustav Jung
9/11 Lies, All Lies
The Lies They Told
http://www.nytimes.com/2009/11/15/books/review/Heilbrunn-t.html
When Sept. 11, 2001, dawned, the Northeast Air Defense Sector in Rome, N.Y., went on full alert — to prepare for a training exercise that envisioned a sneak attack by Russian planes flying over the North Pole to bomb the United States, a prospect that Defense Secretary Robert McNamara had dismissed as outdated in 1966. Later that morning, … three F-16 fighter jets were scrambled from Langley Air Force Base to form a combat air patrol over Washington. But degraded radio transmission quality meant that the pilots were left clueless about the nature of their mission. On seeing the Pentagon in flames, the lead fighter pilot later explained, "I reverted to the Russian threat. I'm thinking cruise missile threat from the sea. You know, you look down and see the Pentagon burning, and I thought the bastards snuck one by us. You couldn't see any airplanes, and no one told us anything." As senior counsel to the 9/11 Commission, [Farmer] investigated the derelict conduct of the national security apparatus. Now that numerous transcripts and tapes have been declassified, [in his book The Ground Truth] Farmer draws on them to assail the government's official depiction of 9/11 as so much public relations flimflam. Both Deputy Defense Secretary Paul Wolfowitz and Vice President Dick Cheney, Farmer says, provided palpably false versions that touted the military's readiness to shoot down United 93 before it could hit Washington. Planes were never in place to intercept it. Farmer … was the attorney general of New Jersey and is the dean of the Rutgers School of Law,
Note: For more on Farmer's book, see a summary of this Time magazine article. For more on this, see concise summaries of deeply revealing 9/11 news articles from reliable major media sources.
****
Campaign Mounts to Declassify 9/11 Report's References to Alleged Saudi Involvement
https://news.vice.com/article/campaign-mounts-to-declassify-911-reports-refer…
Nearly 13 years after the 9/11 terrorist attacks, the extent of Saudi involvement in the deaths of almost 3,000 people remains unclear — but according to members of Congress and the families of victims, information about this has been suppressed ever since the publication of a 2002 congressional investigation into the plot. Prior to the release of the final report of the Joint Inquiry into Intelligence Community Activities Before and After the Terrorist Attacks of September 11, 2001, the Bush administration classified a 28-page section in the name of national security. The 28 pages make up part four of the report, a section titled "Finding, Discussion and Narrative Regarding Certain Sensitive National Security Matters." They are widely believed to implicate Saudi officials or describe support from Saudi intelligence for the hijackers, 15 of whom were Saudi citizens. Former Senator Bob Graham of Florida, who co-chaired the joint Senate-House investigation, dispensed with the equivocation and told VICE News that the redactions are a "cover up." "I've said this since the first classification of the 28 pages," he remarked. "It's become more and more inexplicable as to why two administrations have denied the American people information that would help them better understand what happened on 9/11." Graham said that the 28 pages describe the financing of the attacks. "Follow the money," he said. "That will illuminate other significant aspects of 9/11." The Saudi kingdom has always denied any complicity in the attacks."
Note: Watch a video of Congressman Massie telling how shocked he was to read these 28 pages. Why aren't the major media reporting this important news? For more on this, see concise summaries of deeply revealing 9/11 news articles from reliable major media sources.
***
The symbol for the U.S. dollar is $, sometimes with one or two vertical lines. The "S" and "I" have nothing to do with "dollars" and everything to do with "ISIS." The Egyptian Goddess of the Moon and Sirius was "ISIS" and this is the most common name for her used by the Brotherhood. The dollar sign is actually an occult talisman to this Illuminati Goddess. This is why both the Statue of Liberty/Isis and her dollars are both the same color green. The ancient roots of the word Moon were "mon" and "min" which is why we have "money" made at the "mint." The very idea of money and symbolic currency comes from ancient secret societies.
"Silver was connected with the moon and therefore with the Goddesses of the moon, the most famous of which was and is ISIS. So her name became the symbol of money. We find this today in the cleverly camouflaged motif – $- which is nothing more than the sigil for the name of I-S-I-S, but fused together in an ingenious manner." -Michael Tsarion, "Astrotheology and Sidereal Mythology"
~~~
Origin of the word Fasces
1598, from L. fasces "bundle of rods containing an axe with the blade projecting" (pl. of fascis "bundle" of wood, etc.), carried before a lictor, a superior Roman magistrate, as a symbol of power over life and limb: the sticks symbolized punishment by whipping, the axe head execution by beheading.
A Fasci is the symbol from which we get the word, fascism.  It was a symbol used widely in the Roman Empire and it consists of rods bound together around an axe. This axe is the origin of the term Axis Powers for the fascist countries in the Second World War. The symbolism is of people and countries bound together under a common centralised dictatorship, the axe.  Not only was this used by Ancient Rome back in the day as one of its Symbols of "Supreme Authority", but also by the Original "Axis Powers" of Europe back in the first half of the 20th Century prior too and during WWII. Numerous governments and other authorities have used the image of the fasces as a symbol of power since the end of the Roman Empire. It has also been used to hearken back to the Roman republic, particularly by those who see themselves as modern-day successors to the old republic.  Whenever you see a Fasci with a Laurel Wreath wrapped around it,  it signifies that the Government using it, was Freely given absolute reign by the "People"!, and that the people recognize and submit to its Supreme Authority over everyone and everything.

"The most obvious symbol of the Brotherhood's intent is the fasces, from which we get the word, fascism. You can see it at the bottom of a United States 'liberty' symbol and in the Congress Building. It was a symbol used widely in the Roman Empire and it consists of rods bound together around an axe. This axe is the origin of the term Axis Powers for the fascist countries in the Second World War. The symbolism is of people and countries bound together under a common centralized dictatorship, the axe."
-David Icke, "The Biggest Secret" (365)
When Columbus first came ashore and was greeted by the Arawak native Americans with smiles, gifts and food, he wrote in his log: "They brought us parrots and balls of cotton and spears and many other things … they willingly traded everything they owned … They do not bear arms, and do not know them, for I showed them a sword, they took it by the edge and cut themselves out of ignorance. They have no iron. Their spears are made of cane … They would make fine servants … With fifty men we could subjugate them all and make them do whatever we want." (Howard Zinn's "A People's History of the United States")
Fasces in the American CONGRESS. It is so in our face or fasces!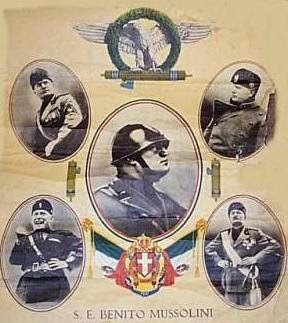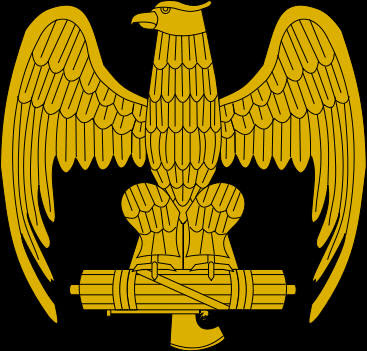 A perched eagle clutching a fasces was a common symbol used on Italian Fascist uniforms.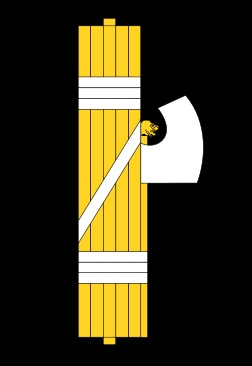 Flag of the National Fascist Party, bearing the fasces, which was was the premier symbol of Italian Fascism.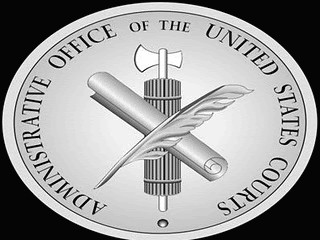 The Mace, which is the symbol of the Office of the Sergeant at Arms, is placed by the Sergeant at Arms on a pedestal at the Speaker's right each time the House convenes. The MAce is also used in the British and Australian parliaments and is also a Nazi symbol of power.
~~~
Masonic Hand Signs ~ El Diablo ~ Sign of the Devil
Does one have to sell ones soul to be put in places of power? If not there sure are a lot of Texas Longhorn Fans in the world:)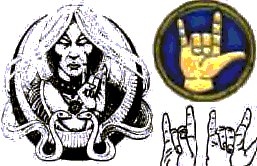 From the Satanic Bible
What do all these people have in common?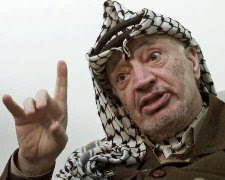 Yasser Arafat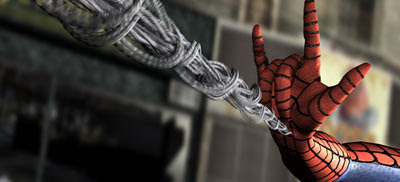 Marvel Comic's "Spider Man"
Maria (Kennedy) Shriver at her marriage to Arnold Schwarzenegger
Tom Ridge, former Homeland Security Director
Above: Outgoing Homeland Security Director Tom Ridge (formerly Governor of Pennsylvania). Surely he's not a Longhorns Fan?
Senator John Edwards
Masonic Hand Signs ~ The Order of the Eastern Star Triangle
The Order of the Eastern Star is a fraternal organization that both men and women can join. It was established in 1850 by Rob Morris, a lawyer and educator from Boston, Massachusetts, who had been an official with the Freemasons. It is based on teachings from the Bible,  The Eastern Star Chapter and the Masonic Lodge are linked together, not by accident, but by the profound lessons of the pentagon, as well as the colors of the Easter Star, following the plan of God of male and female, generative and passive, fire and water.  Even though the Eastern Star is sometimes linked to Satanism, as true believers of the Christ, we should emulate the good qualities of life rather than the evil.  Satan made nothing, and if God is in your life, our star is the beacon that guided the Three Wise Men to Bethlehem and found a Savior.
To the Mason or Eastern Star the East has other special significance. Not in the sense of seeing Christ's star, but symbolically in gaining power and knowledge.