Today!
****
"At the urging of the Obama Administration, the Associated Press and other news outlets have agreed not to report on suspected cases of Ebola in the United States until a positive viral RNA test is completed," writes the Gateway Pundit.
Apparently, all the negative Ebola news was causing potential voters to lose faith in government… and hence lose faith in the governing democrats as well.
So Fox News, CNN and all the other mainstream media outlets simply decided to stop reporting on Ebola news. "This story is officially over," said Sean Hannity of Fox News in applauding the work of the Fox Ebola Team.
Meanwhile, Ebola news has all but disappeared across the entire national media even as the pandemic is exploding at a 900% increased rate of infection in Sierra Leone.
"…the sudden departure of Ebola stories from the state-corporate media doesn't pass the smell test" reports Downtrend.com.
Toxic Vaccine Adjuvant #3: Human Diploid Cells (Aborted Fetuses)
Believe it or not, fetal DNA tissue in used in vaccine cultures, disguised under the name of diploid cells. A diploid cell is simply a cell with a double set if chromosomes. These cells are human cells, derived from the tissue of babies or fetuses, some of which are definitely aborted! This has being going on for over 50 years. The article Human Fetal Links with Some Vaccines admits that "Two different strains of human diploid cell cultures made from fetuses have been used extensively for vaccine production for decades. One was developed in the United States in 1961 (called WI-38) and the other in the United Kingdom in 1966 (called MRC-5)."
Many people, religious or not, are understandably opposed to allowing themselves to be injected with the tissue of dead babies.
***
'It turns out The Bill & Melinda Gates Foundation has been funding the distribution of tetanus vaccine in Africa by UNICEF, which is the agency that provided Kenya with the vaccine reportedly laced with Human Chorionic Gonadatropin (HCG). That is the same Bill Gates who said: "The world today has 6.8 billion people. That's heading up to about nine billion. Now if we do a really great job on new vaccines, health care, reproductive health services, we could lower that by perhaps ten or fifteen percent."'
****
WASHINGTON — President Obama will ignore angry protests from Republicans and announce as soon as next week a broad overhaul of the nation's immigration enforcement system that will protect up to five million undocumented immigrants from the threat of deportation and provide many of them with work permits, according to administration officials who have direct knowledge of the plan.
Asserting his authority as president to enforce the nation's laws with discretion, Mr. Obama intends to order changes that will significantly refocus the activities of the government's 12,000 immigration agents. One key piece of the order, officials said, will allow many parents of children who are American citizens or legal residents to obtain legal work documents and no longer worry about being discovered, separated from their families and sent away.
That part of Mr. Obama's plan alone could affect as many as 3.3 million people who have been living in the United States illegally for at least five years, according to an analysis by the Migration Policy Institute, an immigration research organization in Washington. But the White House is also considering a stricter policy that would limit the benefits to people who have lived in the country for at least 10 years, or about 2.5 million people.
Extending protections to more undocumented immigrants who came to the United States as children, and to their parents, could affect an additional one million or more if they are included in the final plan that the president announces.
***
Every day, America must find a place to park 5 billion gallons of human waste, and we're increasingly unable to find the space. We wake up in the morning, brush our teeth, and flush the toilet, thinking that the waste water disappears into the center of the Earth. If only that were the case.
Every morning between 8 AM and 9 AM, the waste output of Manhattan's West Side swells from 70 million to 150 million gallons per day. This is known as "the big flush." The sewage will eventually end up on a NYC Department of Environmental Protection Sewage boat, which will take the sludge to a dewatering plant on Ward's Island, where the sludge will become "biosolids"—reused to create golf courses, cemeteries, and fertilizer for the human food chain.
Biosolids have become a financial asset worth hundreds of billions of dollars, but it's still possible that we'll go back to dumping our waste in the ocean. In this new documentary, VICE traces the trail of waste from butt to big-money biosolid and beyond.
****
Artur Mas says symbolic poll is a 'lesson in democracy' and calls for a binding referendum on independence.
following Mendonesians actions…??
****
****
****
"Other lines of current immunological contraceptive research continue to seek what, during the 1930s, Max Mason of the Rockefeller Foundation called "anti-hormones": vaccines to block hormones needed for very early pregnancy and a vaccine to block the hormone needed for the surface of the egg to function properly."
****
North Carolina has begun to do something no other state in the nation has attempted: Pay victims of forced sterilization. The state is attempting to right a 20th century wrong when that state and others mandated that tens of thousands of Americans have their reproductive rights stripped from them in the name of public policy.
****
Eleven women have died in India and dozens more are in hospital, with 20 listed as critically ill, after a state-run mass sterilisation campaign went horribly wrong.
****
Scenes we all must demand to see for this century plus long nightmare of abuse to our children by "holy" men, protected by Vatican Popes on high for decades and decades and decades.  Where is the outrage of the parishioners???
Though this world tears us apart, We're still together in my heart, I want the world to hear my cry, And even if I have to die, Love will not die.
CLICK ON STORY TITLES TO READ MORE
LeAnne Morman is an Omaha native. Always interested in news and current events, she caught the broadcasting bug early at 16, when she began anchoring …
An Italian priest who admitted to sexually abusing a young teenage girl hanged himself in the sacristy – the cleric's changing room in his church — the diocese of …
Washington Times
–
19 hours ago
Trieste, Italy – The Diocese of Trieste has announced "with a spirit full of sorrow and dismay" that one of its priests, who had recently admitted to sexual abuse of …
Malta Independent Online
–
4 hours ago
Auxiliary Bishop Charles Scicluna said that having a case of alleged sexual abuse by a priest taking eight years or more before the Curia's Response Team …
****
In the words of project scientist Matt Taylor, it's "the sexiest space mission there ever has been."
Humans just scored an interplanetary field goal. A really long one.
A few minutes after 10:30 a.m. New York time, a spacecraft named Philae ended a 10-year, 4-billion-mile journey to touch a comet. "We are sitting on the surface, and Philae is talking to us," Stephan Ulamec, the lander's project manager, said to cheers at the European Space Agency's operations center in Darmstadt, Germany.
The successful landing is a triumph of space engineering. To get up to speed with the comet, Rosetta made fly-bys of Mars (2007) and Earth (2005, 2007 and 2009), using gravitational pulls to slingshot forward. After years in power-hibernation mode, the European Space Agency woke up Rosetta in time to rendezvous with the comet in August.
****
A Strange Ritual and Secret Ceremony
But, then, a strange ritual of an entirely different sort, of a dark and ominous character, took place at Tranquillity Base on the moon. It was not beamed to the earth via television, for this ritual was carefully crafted beforehand as a secret ceremony, to be hidden and seen only by the eyes of the adepts of the Illuminati and its Masonic fraternity.
Astronaut Neil Armstrong carefully took out his Masonic apron and held it up for the cameras over his space suit as if to cover his genitals area-the power center, or dynamo, of Luciferian energy in Masonic ritual. Today, a photograph of Armstrong holding his occultic apron hangs on a wall at the House of the Temple, the sanctuary of the Scottish Rite, in Washington, D.C.
Astronaut Edwin "Buzz" Aldrin took this Masonic flag to the moon on Apollo 11 in 1969 and conducted a secret ritual.
Next, brother Edwin "Buzz" Aldrin, at the time a 32° Masonic initiate, planted on the moon's surface the real flag intended for honor, the flag the Apollo 11 had carried in its storage compartment, the flag with the Scottish Rite's emblem of deep and mysterious spirituality, the doubleheaded eagle.
The Apollo program was rife with Masons; they were proud of being involved, and weren't shy about advertising the fact.

In the November 1969 edition of The New Age Magazine, there is an extensive article by Kenneth S. Kleinknecht, 33°, the Manager of the Apollo Program Command and Service Modules; Deputy Manager, Gemini Program; Manager, Project Mercury.

On page 13, we read:

Note how many of the astronauts themselves are Brother Masons: Edwin E. Aldrin, Jr.; L. Gordon Cooper, Jr.; Donn F. Eisle; Walter M. Schirra; Thomas P. Stafford; Edgar D. Mitchell, and Paul J. Weitz. Before his tragic death in a flash fire at Cape Kennedy on January 27, 1967, Virgil I. "Gus" Grissom was a Mason, too. Astronaut Gordon Cooper, during his epochal Gemini V spaceflight in August of 1965, carried with him an official Thirty-third Degree Jewel and a Scottish Rite flag. Via the lunar plaque, the Masonic ensignia and flag, and the Masonic astronauts themselves – Masonry already is in the space age. Can we doubt Freemasonry and its spiritual relevance to the modern era when even its material representatives have today made historic inroads into the infinite expanses of outer space?

Back then, Freemasonry wasn't shy about admitting that the "Craft" is essentially a spiritual endeavor, either. In fact, right before Kleinknecht writes some bios on the Masonic astronauts (as well as Mason James Edwin Webb, the NASA administrator from 1961-68), he includes these words: "The mission of the Craft has always been one of salvation, but until now its field of endeavor was the individual and the bringing of him to the light. Masonry cannot think in these terms now. All men everywhere must hear our message or all men everywhere will perish" (ibid., pp. 15-16; my emphasis).

Kenneth S. Kleinknecht, by the way, was/is the brother of C. Fred Kleinknecht, 33°, Sovereign Grand Commander, The Supreme Council, 33° (Mother Council of the World), Southern Jurisdiction, USA, Washington.
In the wake of Aldrin's Masonic space mission, the Grand Lodge of Texas formed Tranquility Lodge No. 2000, named after Tranquility Base, the location of Apollo 11's landing. According to the lodge website,
On July 20, 1969, two American Astronauts landed on the moon of the planet Earth, in an area known as Mare Tranquilitatis , or "Sea of Tranquility". One of those brave men was Brother Edwin Eugene (Buzz) Aldrin, Jr., a member of Clear Lake Lodge No. 1417, AF&AM, Seabrook, Texas. Brother Aldrin carried with him SPECIAL DEPUTATION of then Grand Master J. Guy Smith, constituting and appointing Brother Aldrin as Special Deputy of the Grand Master, granting unto him full power in the premises to represent the Grand Master as such and authorize him to claim Masonic Territorial Jurisdiction for The Most Worshipful Grand Lodge of Texas, Ancient Free and Accepted Masons, on The Moon, and directed that he make due return of his acts. Brother Aldrin certified that the SPECIAL DEPUTATION was carried by him to the Moon on July 20, 1969.

Tranquility Lodge 2000 was Chartered by The Grand Lodge of Texas for the purpose of promoting, encouraging, conducting and fostering the principles of Freemasonry, and to assist in promoting the health, welfare, education and patriotism of children worldwide.

The Grand Lodge of Texas is the first Grand Lodge to have a Member step onto the Moon, Brother Buzz Aldrin, in 1969. Tranquility Lodge 2000 is based in Texas under auspices of The Grand Lodge of Texas until such time as the Lodge may hold its meetings on the Moon.
****
"The Killing of the King rite was accomplished at another Trinity site located approximately ten miles south of the 33rd degree of north parallel latitude between the Trinity River and the Triple Underpass at Dealey Plaza in Dallas, Texas. Dealey Plaza was the site of the first masonic temple in Dallas. In this spot, which had been known as 'Bloody Elm Street,' the world leader who had become known as the 'King of Camelot,' President John Fitzgerald Kennedy, was shot to death."
Illuminati Assassination of the King, JFK, Camelot.
Kennedy was killed at 12:22 p.m on the 11th month and 22nd day at the moment when the sun is 'most high' under an oak tree in an outdoor Temple of the Sun called Dealy Plaza. If you've seen the 'Lion King' animated indoctrination film you'll notice the King is killed under an oak tree. Dealy Plaza is the site of the first masonic temple in Texas. 'Dea' means 'Goddess' and ley refers to the ley lines of harmonic convergence. Dealy Plaza is shaped like the symbol of the Illuminati, a truncated pyramid with the capstone missing. The top of the pyramid is truncated by the Triple Overpass. Elm Street was known as 'Bloody Elm Street', the site of much violence and horrific murders.
Masonic assassins traditionally come in threes and are called 'unworthy craftsmen'. This refers to the killers of Hiram Abif, the builder of the Temple of Solomon. Hiram was killed with a blow to the back, neck and head. Kennedy was killed with a blow to the back, neck and head. Minutes after the assassination, three 'hobos' were trotted out ceremonially with no police record of who they were being kept – the three anonymous unworthy craftsmen of masonic murder.
George Herbert Walker Bush, was photographed standing outside of the TSBD building at the moment of the assassination.

Here is a letter saying that Bush would be in Dallas on November 22, 1963, and even mentioned where he was staying while there. Bush later denied that he was even a CIA operative, and claimed he never belonged to the agency until he was named Director by President Gerald Ford, a former member of the Warren Commission.
*****
The earliest beginnings of the U.S. space program involved the secretive OSS/CIA project, Operation Paperclip, in which Nazi rocket scientists like Werner Von Braun were brought from war-torn Germany to America and given responsibility for development of space vehicles. The Freemasons were then put in charge of the newly created space agency, and magic and witchcraft were integrated and wedded with the newest advances in technology.
Crew of Apollo 13. Left to right: astronauts James Lovell, Jr.; Thomas Mattingly II (later replaced by John Swigert, Jr.;) and Fred Haise, Jr. In the foreground, at left is an octant, a navigation tool similar in shape to a Masonic compass, used aboard a ship in the year 1790. In the center is the Apollo 13 emblem, representing the sun god who brings man light, and on the right is a Hindu astrolabe, written in the sanskrit language, which was used in ancient times to predict the position of celestial bodies.
Virtually everything that NASA does is permeated with magic and alchemy. Moreover, the real purpose of NASA is contained in another matrix, hidden from the public at large. This process involves the creation of Satanic ritual magic enabling the Illuminati elite to acquire and accumulate power even as the mind-controlled and manipulated masses are pushed into ever increasing states of altered consciousness.
As occultist Antero Alli comments in his book, All Rites Reversed, "The most mysterious and fascinating areas of ritual work involve those triggering mechanisms producing altered states of consciousness."
This is the official logo, or emblem, of the tragic Space Shuttle Columbia mission during which seven astronauts recently lost their lives. It contains a number of esoteric symbols and messages, including representations of a phallic obelisk passing through a feminine circle shooting a star upward toward the heavens. Also, note the Israeli six-pointed star flag (but no U.S. flag), and the geographic nations map overseen by a sun symbol.
****
Let Freedom Ring!
The disturbing missive, allegedly written as if by an anonymous, disillusioned civil rights supporter, promises to reveal King as an adulterous fraud if he doesn't kill himself in 34 days. This unedited version shows all powerful-FBI Director J. Edgar Hoover illegally authored and approved the perverse action against Dr. King.
The disturbing missive, which details intimate knowledge of King's extramarital affairs, was sent in the days before he was to receive the Nobel Peace Prize and is written under the guise of a civil rights supporter angry with the movement's leader.
A deadline of 34 days is given before King is outed as a womanizer, the missive, filled with grammatical errors, threatens. "You are done. There is but one way out for you. You better take it before your filthy, abnormal, fraudulent self is bared to the nation," the one-page letter, obtained by Yale professor Beverly Gage and printed in The New York Times, reads.
*****
Hollywood Knows and Doesn't Care Because this is Biz as Usual in Their Industry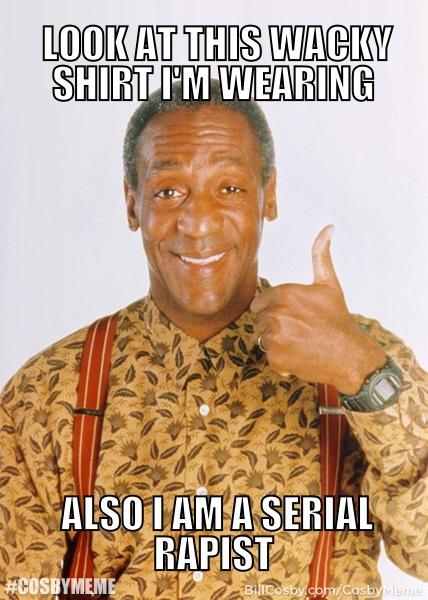 Still, the rape allegations are always just a mouse click away.
Not long after Constand's accusations hit the media, Tamara Green went public with her claims on "Today." A few months later, another Jane Doe, Beth Ferrier, also spoke out. A third woman, Barbara Bowman, came forward in 2006. Green and Bowman both gave interviews to Newsweek in early 2014.
****
The Jewish Hollywood moguls long ago decided that it would help them make more money if the general public viewed films as being "Christian." In fact, they personally wanted to blend in with the Gentile community. Thus Samuel Goldfish changed his name to Goldwyn and Cecil B. de Mille insisted that he was a Gentile until his death when a Rabbi officiated at his funeral. Every single one of the original Jewish developers of the movie industry divorced their Jewish wives and married beautiful Christian starlets.
This includes Louis B. Mayer, Samuel Goldwyn, Jack Warner, David O. Selznick and
Harry Cohen. They gave orders to the numerous Jews they made "stars" to change their Jewish names to Christian sounding ones. This has also included a lot of "nosejobs" for both Jewish male and female stars. Here are but a few who followed this road to stardom.
Adopted Christian Name ……….Real Jewish Name
Joey Adams ………………………… Joseph Abramowitz
Eddie Albert ………………………….Eddie Heimberger
Woody Allen………………………… Allen Konigsberg
Lauren Bacall ……………………… Joan Perske
……
More Jewish Stars Over Hollywood
There are hundreds of other Jews in Hollywood "stardom" – far too numerous to list them all here. However the following are Jews whom many think are Gentiles: Ed Asner, Bea Arthur, Gene Barry, Richard Benjamin, Kevin Costner, Lee J. Cobb, Joan Collins, Richard Dreyfus, Ted Danson, Peter Falk (Columbo), Eddie Fisher, Harrison Ford, Richard Gere, Betty Grable, Sharon Gless, Steven Segall Dustin Hoffman, Monty Hall, Amy Irving, Jack Klugman, Leonard Nimoy, Ken Olin, Ron Perlman, George Segel, William Shatner, Peter Strauss, Rod Steiger, Jane Seymour, Barbara Walters, Debra Winger, and Bruee Willis.
The following are half-Jewish, Joan Collins, Goldie Hawn, Paul Newman, Robert DeNiro and Geraldo Rivera.
Jews in the music field include, Billy Joel, Barry Manilow, Tony Martin, Bette Midler, Barbara Streisand and Ringo Starr.
Here are but a few in the field of"comedy" which is 90% Jewish dominated! Roseanne Barr, David Brenner, Sid Caesar, Richard Dawson, Don Adams, Norm Crosby, George Jessel, Alan King, Carl Reiner, Don Rickles, Martha Reye, Garry Shandling, Henry Winkler and David Letterman.
How The Jews Stole Thomas Edison's Motion Picture Invention
Thomas Edison was the greatest inventor who ever lived with over 2,000 inventions patented including the electric light, the phonograph and the motion picture machine.
In 1903 the four Warner brothers bought a used Edison Kinetoscope projector for $1,000 and repaired it. They began showing what they called the "magic lantern pictures" on the walls in beer halls. 1909 Edison's General Film Co. sued Warner Brothers for violating their copyright to the motion picture machine and forced them to close their company. At that time, the Warners and other Jews were making illegal films in Brooklyn. They fled Edison's private detectives for Los Angeles where lax laws let them steal the film business away from Thomas Edison.
……
The Committee on Un-American Activities investigated communist infiltration of the motion picture industry in 1947. Actor Larry Parks confessed that he had been a member of a secret Communist Party Cell in Hollywood whose task was to insert Marxist themes into the movies. He revealed that Jewish actor John Garfield was also a member of this cell.
The studios were forced to " blacklist " Garfleld who never appeared in another film. Still the dark forces which control Hollywood also banned Parks. Later the infamous "Hollywood Ten" film writers were sentenced to prison for contempt of Congress. They had refused to answer questions about their pro-communist propaganda work. Nine of the ten were Jews!
****
On a bright fall day last year off the coast of Southern California, an Air Force B-1 bomber launched an experimental missile that may herald the future of warfare.
Initially, pilots aboard the plane directed the missile, but halfway to its destination it severed communication with its operators. Alone, without human oversight, the missile decided which of three ships to attack, dropping to just above the sea surface and striking a 260-foot unmanned freighter.
The test was deemed a military success. But the design of this new missile and other weapons that can pick targets on their own has stirred protests from some analysts and scientists, who fear that an ethical boundary is being crossed.
Arms makers, they say, are taking the first steps toward developing robotic war machines that rely on software, not human instruction, to decide what to target and whom to kill. The speed at which these weapons calculate and move will make them increasingly difficult for humans to control, critics say — or to defend against.
And some scientists worry that with the aim of reducing indiscriminate killing and automating armed conflict, these weapons one day could make war more thinkable, even more likely.
Conventional drones are operated by remote pilots, and heat- and radar-seeking missiles are directed by humans. But now Britain, Israel and Norway are deploying missiles and drones that carry out attacks against enemy radar, tanks or ships without direct human control.
After launch, so-called autonomous weapons rely on artificial intelligence and their own sensors to select targets and to initiate an attack.
Britain's "fire and forget" Brimstone missiles, for example, can distinguish between tanks and cars and buses without human assistance, and can hunt targets in a predesignated region without oversight. The Brimstones also communicate with one another, sharing their targets.
Armaments with even more advanced self-governance are on the drawing board, although the details usually are kept secret. "An autonomous weapons arms race is already taking place," said Steve Omohundro, a physicist and artificial intelligence specialist at Self-Aware Systems, a Palo Alto, Calif., research center. "They can respond faster, more efficiently and less predictably."
****
"I'm your modern-day Robin Hood," gloated a police chief in New Jersey. "I steal from the rich, the drug dealers, to give to the poor, the police." The reality, of course, is that the police are faring much better than their private sector competition in the criminal underworld: Two Long Island County police departments confiscated $31 million through asset forfeiture.
must check out video of city attorney advising cops how to take peoples possessions and what they covet in link.
Mr. Connelly was talking about a practice known as civil asset forfeiture, which allows the government, without ever securing a conviction or even filing a criminal charge, to seize property suspected of having ties to crime. The practice, expanded during the war on drugs in the 1980s, has become a staple of law enforcement agencies because it helps finance their work. It is difficult to tell how much has been seized by state and local law enforcement, but under a Justice Department program, the value of assets seized has ballooned to $4.3 billion in the 2012 fiscal year from $407 million in 2001. Much of that money is shared with local police forces.
Police Use Department Wish List When Deciding Which Assets to Seize
Even the corporate-run media is borrowing the label "
policing for profit
" to describe the practice of civil asset forfeiture by the police force. That is, seizing property, money, cars and even homes without any type of due process. Not even a charge. All of your "donations" benefit the vicious cycle, and anything the offices want. A comedic approach to the subject comes from
John Oliver's show
.Released footage of a New Mexico attorney at a "Vehicle Forfeiture Conference" – yes, that was the actual seminar title – is quickly gaining ire. In it, the Las Cruces city attorney, Harry S. Connelly Jr., encourages the police practice of seizure like he's a multi-level marketing guru motivating his underlings to look at everyone as a potential dollar sign. Really, the analogy fits – a report from the
Institute of Justice
documents that prosecutors (and the State) get a part of the cut.
****
Amazon is planning to test drones in Cambridge, England, as the battle to offer consumers same-day deliveries heats up.The US company announced with considerable fanfare late last year that it was considering using drones as a way of dramatically reducing the time it takes to deliver orders to customers. At the time there was speculation that the move was little more than a publicity stunt. But Amazon said in July that it had sought permission from the US Federal Aviation Administration to test drones that could fly as fast as 50 miles per hour for up to 30 minutes at a time to deliver packages weighing up to 2.3kg (5lb).
****
Duqu was essentially a remote-access Trojan, or RAT, which operated as a simple back door to give the attackers a persistent foothold on infected machines. Once the back door was installed, however, Duqu contacted a command-and-control server, from which the attackers could download additional modules to give their attack code more functionality, such as the keystroke logger/infostealer the Hungarians had found on one of their systems.
As for Duqu's intent, it was pretty clear it wasn't a saboteur like Stuxnet, but an espionage tool. Whereas Stuxnet was a black ops mission bent on destruction, Duqu appeared to be the forward scout, sent out to collect intelligence for future assaults. Symantec suspected it was the precursor to another Stuxnet-like attack. Duqu's life-span was limited, however; a kill date in the code forced it to self-destruct after thirty-six days, deleting all traces of itself from an infected machine.
***
Just another day at the office…
November 12th, 2014
Via: Reuters:
Regulators fined six major banks including Citigroup (C.N) and UBS (UBSN.VX) a total of $4.3 billion for failing to stop traders from trying to manipulate the foreign exchange market, following a year-long global investigation.
HSBC (HSBA.L), Royal Bank of Scotland (RBS.L), JP Morgan (JPM.N) and Bank of America (BAC.N) also face penalties resulting from the inquiry that has put the largely unregulated $5 trillion-a-day market on a tighter leash, accelerated the push to automate trading and ensnared the Bank of England.
In the latest scandal to hit the financial services industry, dealers shared confidential information about client orders and coordinated trades to make money from a foreign exchange benchmark used by asset managers and corporate treasurers to value their holdings. Dozens of traders have been fired or suspended.
Dealers used code names to identify clients without naming them and created online chatrooms with pseudonyms such as "the players", "the 3 musketeers" and "1 team, 1 dream" in which to swap information.
****
Freedom???  U.S.ranks 34th in the world in western, get sick first, "healthcare" yet ranks #1 in cost and WE ARE FORCED TO SIGN UP FOR THIS INADEQUATE, TAKE A PILL, RADIATE, CUT OUT form of "care".  arghhhhhhhh. Where is the outrage?