*****
*****
Our fundamental relationship to everything larger than us or our blindness to it determines what kind of life is possible. Each of us must continually assess, without ever knowing for certain, which way the Universe appears to be unfolding. Is it breaking apart or coming together? Or is it a weave of both? Do we believe that life is a pulling-apart we must survive or a constant rearrangement and putting together that we must surrender to?
~Mark Nepo, Seven Thousand Ways To Listen~
*****
"Some individuals describe themselves as amorphous clouds, energy patterns, or pure consciousness; others experience distinct feelings of having a body which is, however, permeable, invisible, and inaudible for those in the phenomenal world. Sometimes there is fear, confusion, and a tendency to return to the physical body; sometimes there are ecstatic feelings of timelessness, weightlessness, peace, serenity, and tranquility. Some individuals in this state show concern about the fate of their physical bodies; others feel totally indifferent."  -Stanislav Grof & Joan Halifax, "Human Encounter with Death" (154)
"You can move through space (and time) slowly or apparently somewhere beyond the speed of light. You can observe, participate in events, make willful decisions based upon what you perceive and do. You can move through physical matter such as walls, steel plates, concrete, earth, oceans, air, even atomic radiation without effort or effect. You can go into an adjoining room without bothering to open the door. You can visit a friend three thousand miles away. You can explore the moon, the solar system, and the galaxy if these interest you. Or you can enter other reality systems only dimly perceived and theorized by our time/space consciousness."  –Robert Monroe, "Far Journeys" (3-4)
*****
As a neurosurgeon, I did not believe in the phenomenon of near-death experiences. I grew up in a scientific world, the son of a neurosurgeon. I followed my father's path and became an academic neurosurgeon, teaching at Harvard Medical School and other universities. I understand what happens to the brain when people are near death, and I had always believed there were good scientific explanations for the heavenly out-of-body journeys described by those who narrowly escaped death. The brain is an astonishingly sophisticated but extremely delicate mechanism. Reduce the amount of oxygen it receives by the smallest amount and it will react. It was no big surprise that people who had undergone severe trauma would return from their experiences with strange stories. But that didn't mean they had journeyed anywhere real. Although I considered myself a faithful Christian, I was so more in name than in actual belief. I didn't begrudge those who wanted to believe that Jesus was more than simply a good man who had suffered at the hands of the world. I sympathized deeply with those who wanted to believe that there was a God somewhere out there who loved us unconditionally. In fact, I envied such people the security that those beliefs no doubt provided. But as a scientist, I simply knew better than to believe them myself. In the fall of 2008, however, after seven days in a coma during which the human part of my brain, the neocortex, was inactivated, I experienced something so profound that it gave me a scientific reason to believe in consciousness after death. There is no scientific explanation for the fact that while my body lay in coma, my mind—my conscious, inner self—was alive and well. While the neurons of my cortex were stunned to complete inactivity by the bacteria that had attacked them, my brain-free consciousness journeyed to another, larger dimension of the universe: a dimension I'd never dreamed existed and which the old, pre-coma me would have been more than happy to explain was a simple impossibility. But that dimension—in rough outline, the same one described by countless subjects of near-death experiences and other mystical states—is there. It exists, and what I saw and learned there has placed me quite literally in a new world: a world where we are much more than our brains and bodies, and where death is not the end of consciousness but rather a chapter in a vast, and incalculably positive, journey. A sound, huge and booming like a glorious chant, came down from above, and I wondered if the winged beings were producing it. Again, thinking about it later, it occurred to me that the joy of these creatures, as they soared along, was such that they had to make this noise—that if the joy didn't come out of them this way then they would simply not otherwise be able to contain it. The sound was palpable and almost material, like a rain that you can feel on your skin but doesn't get you wet. Seeing and hearing were not separate in this place where I now was. I could hear the visual beauty of the silvery bodies of those scintillating beings above, and I could see the surging, joyful perfection of what they sang. It seemed that you could not look at or listen to anything in this world without becoming a part of it—without joining with it in some mysterious way. Again, from my present perspective, I would suggest that you couldn't look at anything in that world at all, for the word "at" itself implies a separation that did not exist there. Everything was distinct, yet everything was also a part of everything else, like the rich and intermingled designs on a Persian carpet … or a butterfly's wing. It gets stranger still. For most of my journey, someone else was with me *****
Overcoming The Fear Of Death By Living Totally
***** Dolores Cannon and the Return of Lost Knowledge from the Beyond http://www.youtube.com/watch?v=WByfRW95z4E
*****
---
Iconic Activist Pete Seeger Graduates From Life With Honors
Pete Seeger has passed. The obits will call him a legend. But many won't capture an essential quality of the Seeger tale: as he fought for decades to advance political values and an artistic vision, he was hounded for much of that time by fierce enemies (most notably, the FBI and McCarthyites in the 1950s), and he whipped them. He persevered—and he won. He was never silenced. He played his music, protested wrongs, cleaned up the Hudson River, lived his ideas, and came to be celebrated for his devotion to music and principles. His revenge was simple: he kept on singing and, perhaps most important, encouraging others to do so. Seeger triumphed over his foes, not just because he outlived so many but because his voice was more powerful.
*****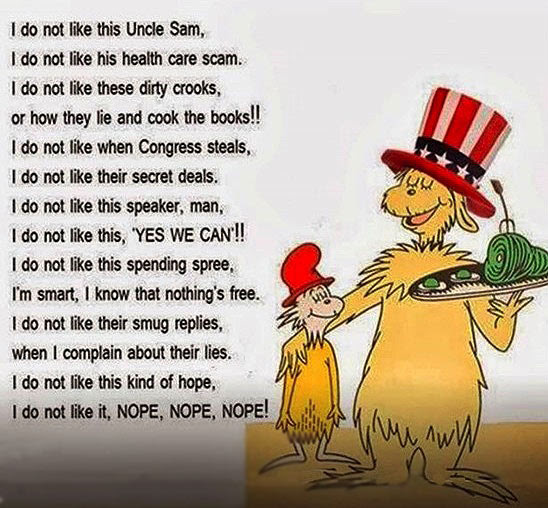 America does not stand still – and neither will I," Obama declared in the thesis-defining lines of his speech. "So wherever and whenever I can take steps without legislation to expand opportunity for more American families, that's what I'm going to do."
The primary focus of President Obama's State of the Union was to position his 2014 agenda around wielding the power of the presidency through the use of executive actions.
It's a (perhaps overdue) reflection of political reality and a contrast to the way he's implored Congress to act on his legislative priorities in previous SOTUs — typically coming up empty-handed. With his own approval ratings down and base-driven midterm elections on the horizon, Obama has disabused himself of the prospects of enacting grand bargains here and bipartisan comprehensive solutions there.
"America does not stand still – and neither will I," Obama declared in the thesis-defining lines of his speech. "So wherever and whenever I can take steps without legislation to expand opportunity for more American families, that's what I'm going to do."
His plan to sidestep congressional opposition by governing through executive action has drawn predictable howls of "tyranny" from the opposition.
*****
Obama and the State of the Onion Address:
Apparently, the President had ingested some kind of weird drug, because when he stepped to the podium he didn't look at the teleprompter. He just started talking.
"…like every other recent President, when I take to this platform I'm expected to tell a certain number of lies dressed up as the truth. And believe me, folks, I had a few whoppers ready to go.
"But now I feel like doing something else. I'm not going to delve into the many scandals of my administration, because examining them and taking them apart and exposing the lies would keep us here all night and into tomorrow.
"Instead, I just want to explain my overarching agenda. It's the same agenda every modern President has fronted for. I'm not really doing anything new. That's a myth.
"You see, in order to become President in the first place, I had to sign on to the scheme to debase, throttle, and weaken this country. I have my methods. Every President has his own.
"Weakening America is part and parcel of Globalism. Ultimately, America will not the lead the way into what has been called the New World Order. International heavy hitters, bankers, and corporations will carry that ball. America will go along, with its population of sleeping masses.
"So-called Pax Americanus, or imperial American empire, has been shelved, in favor of a much larger operation.
"My basic job is allowing all this to happen, so we end up with a global management system, in which the individual is enmeshed.
"With some degree of accuracy, you could say that everything I've been doing is a smokescreen to obscure the march of Globalism.
"We politicians view humans at large as dangerous and badly programmed biological machines. Until new programming can be inserted universally, we keep things in check. We hold the fort.
"For the next two years, I'll continue clamping down on rights and freedoms. I'll support the Surveillance State. I'll take away guns. I'll step up psychiatric intervention. I'll increase debt. I'll keep unemployment high. I'll probably launch a few more military interventions. Expect more mass shootings, which are covert actions, with appointed patsies to take the fall.
"I'll allow the expanded militarization of local police forces. I'll intercede, wherever possible, to stop individuals from living off the grid. I'll try to mangle the spirit of self-sufficiency in whatever form it occurs.
"I'll assist mega-corporations. I'll keep as many doors open for Monsanto as I can.
"You get my drift. It's business as usual. In my case, I'll try to up the ante and intensify the collapse of America.
"Did someone put something in my cigarette or coffee? I'm telling the truth. It feels strange, very strange.
"Anyway, here's to One World under one authority. It's the only solution to our problems. Trust me, I wouldn't mislead you. Give up, give in, take the ride. It's not so bad. Resistance is a fool's errand. The people who are running things are out to destroy independence. Let them. By the time they're finished, you'll see that 'equality' isn't so bad.
*****
Paradise Farmed:  Inside Kaua'i's Local Food Movement
*****
The number of children and teenagers seeking help for an eating disorder has risen by 110 per cent in the past three years, according to figures given exclusively to The Independent on Sunday.
ChildLine says it received more than 10,500 calls and online inquiries from young people struggling with food and weight-related anxiety in the last financial year. The charity believes this dramatic increase could be attributed to several factors, including the increased pressure caused by social media, the growth of celebrity culture, and the rise of anorexia websites. The problem is most prevalent among girls of secondary school age. During 2012-13, counselling with girls about concerns of eating problems outnumbered counselling with boys by 32:1. Many girls talked about the concerns they had about their body image and how they disliked the way they looked. They also mentioned how they compared themselves negatively with peers and celebrities. In more than 20 per cent of counselling sessions about eating problems with girls, they talked about their body image or self-esteem.
*****
Youngsters Check Their Phones Every 10 Minutes; One In 20 Looks At Their Phone Every Minute Of The Day
*****
Unhealthy Truth and Our Children
1 of 5 children are diabetic. 1 in 4 have Allergies, Ashtma, Autism and/or Autism.  We have never seen such childhood epidemics like this…all food and vaccine related.  Robyn O' Brien was an food analyst for a large investment bank until her child got deathly ill from eating eggs. So she investigated and found out truths to share will all. She wrote a must read book called, "Unhealthy Truth".
http://www.youtube.com/watch?v=fWXrRftyOMY
One more take on our "Smart World" which is anything but.  Smart for who?
For those who wish to control all it is "smart" to give out mind, body and spirit sucking devices to make us all sicker and drawn to their objectives to keep all sick and possessed.
Newest Trend in Youths; Snorting Smarties
Kids snorting Smarties isn't on the level of vodka-soaked tampons, but it does give outraged parents an excuse to say, "Don't be a dumb-dumb, don't snort Smarties," so it's a real, DEADLY trend. Feel the paranoia.
Officials at a Portsmouth Middle School in Rhode Island warned parents last week that they recently became aware of a trend where students were crushing the classic candies into a "fine powder" while still in the wrapper, then either putting the powder in their mouths and exhaling it through the mouth or nose like cigarette smoke, or using a straw or rolled up piece of paper to snort the powder as if it were cocaine.
"We have recently become aware of an unsafe, new trend among some of our middle school students — smoking or snorting the candy, Smarties. Our research has taught us this is a widespread phenomenon and is the subject of many You-Tube videos," read the email addressed from Portsmouth Middle School. (Via)
The email went on to provide a bulleted list of potential health risks associated with the practice: cuts, infection, scarring of the nasal cavity, irritation of the lungs, allergic reaction and raised risk for turning to other substances like cigarettes or drugs that can be snorted. One eyebrow-raising health risk the letter pointed to was increased odds for possible maggot infestation in the nose. The email cited the Mayo Clinic's Dr. Oren Friedman, who purportedly said maggots may feed on the sugary dust wedged inside the nose. (Via)
****
Submitted by Tyler Durden on 01/27/2014 – 21:16
"I don't think we're going to get enough young people signing up to make this bill work as it was intended to financially," warned Democrat Virginia Representative Jim Moran. The Democrat, as The Daily Caller reports
, seemingly daring to break ranks with his peers, added that he understood Millennial lack of signing up as "frankly, there's some legitimacy to their concern because the government spends about $7 for the elderly for every $1 it spends on the young." This stunning declaration, of course, fits with the narratives that most mathematically-capable human beings can comprehend but starkly refutes the hopes and dreams of the President's healthcare policy… The reason that Jim Moran could be so honest… after 12 terms of toeing the lying line, he has announced his retirement.
****

Got Water?
China Accelerates Rain Cloud Seeding by 500% for 2014…….debunkin geo-engineering skeptics
******
Got Food?
House and Senate Agricultural Committee negotiators announced Monday a new five-year farm bill that slashes about $23 billion over 10 years in federal spending by eliminating farm subsidies under the direct-payment program and cutting about $8 billion in food-stamp assistance.   But critics say
that the new bill has only made cosmetic adjustments by moving subsidies from wealthy farmers under the direct-payment program to an expanded crop-insurance program, through which the same wealthy farmers are paid to cover losses from poor yield or low sales revenue.   The bill is estimated to cost about $100 billion a year over five years, according to The Associated Press, but sources said that committee members are awaiting final figures from the Congressional Budget Office.   Congressional negotiators have been working on the bill for more than two years, being unable to come to an early agreement on contentious details.   The total of $23 billion slashed over a decade consists of about $19 billion in farm programs, including $5 billion-a-year subsidies to wealthy farmers, some of whom are non-farming absentee landowners, and about $6 billion from conservation programs run by the Department of Agriculture.
Extreme Weather Wreaking Havoc On Food As Farmers Suffer
*****
Got Cash??
'The Bundesbank has dropped a DIESELBOOM on the European markets Monday morning, calling on Eurozone nations about to go bankrupt (ie Greece, Italy, Portugal, & Spain) to initiate a one-off capital levy bail-in on their wealthiest citizens prior to asking other nations (read Germany) for bail-out help.
Yes, you read that correctly, the most powerful Central Bank in the Eurozone has just openly called for Eurozone wide bail-ins.'
Relink: JP Morgan Limits cass withdrawls to $100/day due to Target store cybertheft (Dec. 23, 2013)
'Fears are growing that HSBC bank is insolvent, after the Bank refused cash withdrawals and has an $80bn blackhole in their balance sheet.  Last night,Forbes and a variety of sources including Max Keiser, and FXstreet (Forex) reported a Bank of China announcement suspending all cash transfers for the next several days.  So what's really going on?'
HSBC, the world's third largest bank and money launderer of choice for drug traffickers, arms dealers and terrorist groups worldwide, was recently in the news for limiting the amount of cash customers could withdraw from their own accounts (though, after the hue and cry that policy engendered, HSBC has rescinded it).To wit, from the BBC:
Some HSBC customers have been prevented from withdrawing large amounts of cash because they could not provide evidence of why they wanted it… Listeners have told Radio 4′s Money Box they were stopped from withdrawing amounts ranging from £5,000 to £10,000.
RBS hit with £3bn bill as hopes slide for sell-off before election: Bank faces huge new mis-selling scandal
'Royal Bank of Scotland is on course for its largest loss since the crash because of blunders under former boss Fred 'the Shred' Goodwin.
It is having to set aside £3billion to cover expected costs for legal actions and compensation for mis-selling thousands of policies.
The massive black hole illustrates the long-lasting damage done by Goodwin's leadership before the bank was bailed out with £45billion of taxpayers' money in 2008.
'Barclays Bank is preparing to close a quarter of its 1,600 UK branches and shed hundreds of investment banking jobs, it has been reported.
The decision comes as the bank tries to cut costs.
It will replace around 400 branches with smaller sites in Asda supermarkets, the Financial Times said.'
*****

by Zen Gardner
Why mince words when the planet's being destroyed and we're all being systematically murdered?
When it finally dawns on you what these New World Order elite globalists are up to it can be staggering. And it can't be more in your face than it is right now.
We have chemtrails continually 'playing' on the world's biggest screen, our skies–horrific displays of absolute disregard for all things living. And yet the majority doesn't even see them and there's total silence about it from authorities and the media.
Flocks of birds are falling from the sky and millions of dead fish are washing up on our shores, and they all act dumb, like they have no idea what the hell is going on.
The Gulf of Mexico has been killed, the vital loop current disrupted, the weather shot to hell, the food and water are deliberately poisoned and altered, and then they screw with the stratosphere and magnetosphere with a host of devilish devices.
Never mind the deliberately trashed economy and the fabricated 'war on terror' while the police state clampdown continues.
And we're not supposed to notice?..or think this is deliberate destruction of our world?
Enter the Two Man Wrecking Crew…..
As F. William Engdahl in Financial Sense wrote:
Microsoft founder and one of the world's wealthiest men, Bill Gates, projects an image of a benign philanthropist using his billions via his (tax exempt) Bill & Melinda Gates Foundation, to tackle diseases, solve food shortages in Africa and alleviate poverty. In a recent conference in California, Gates reveals a less public agenda of his philanthropy—population reduction, otherwise known as eugenics.
Gates made his remarks to the invitation-only Long Beach, California TED2010 Conference, in a speech titled, "Innovating to Zero!." Along with the scientifically absurd proposition of reducing man-made CO2 emissions worldwide to zero by 2050, approximately four and a half minutes into the talk, Gates declares, "First we got population. The world today has 6.8 billion people. That's headed up to about 9 billion. Now if we do a really great job on new vaccines, health care, reproductive health services, we lower that by perhaps 10 or 15 percent." (author's emphasis)
*****
After agreeing to pay $23 billion in penalties and settlements in 2013, JPMorgan Chase (JPM) Chief Executive Jamie Dimon was rewarded today by the board he chairs, receiving a 74 percent pay raise to $20 million.
Dimon has presided over a series of costly settlements with government investigators, including paying $13 billion for mortgage activity that helped lead to the financial crisis and $2 billion for failing to do anything about signs that client Bernie Madoff was running a Ponzi scheme. But in the amoral logic of the stock market, each payout has been met with gains in the company's stock price, as investors see one fewer uncertainty looming over future profits.
Jamie Dimon to meet with Prince Andrew, Duke of York.
It must have been a welcome spot of light relief for Jamie Dimon. Only days after he finally agreed to a $13 billion settlement with U.S. mortgage regulators, the boss of JPMorgan – and dozens of his corporate clients – were sitting back amid the splendor of Buckingham Palace, enjoying a fine dinner and performances by the Royal Philharmonic and the English National Ballet.
The event, hosted by Prince Andrew, Duke of York, reflects growing enthusiasm by the Royal Family to use its premises to promote business interests. But it also risks stoking criticism over its apparent commercialization and its intimacy with business.
*****
by Chris Carrington | The Daily Sheeple
The 'demonized' Tom Perkins
Multibillionaire Tom Perkins has had a letter published in the Wall Street Journal
that likens the Occupy movement and other progressive causes to World War ll Nazis.
Writing from the epicenter of progressive thought, San Francisco, I would call attention to the parallels of fascist Nazi Germany to its war on its "one percent," namely its Jews, to the progressive war on the American one percent, namely the "rich."From the Occupy movement to the demonization of the rich embedded in virtually every word of our local newspaper, the San Francisco Chronicle, I perceive a rising tide of hatred of the successful one percent. There is outraged public reaction to the Google buses carrying technology workers from the city to the peninsula high-tech companies which employ them. We have outrage over the rising real-estate prices which these "techno geeks" can pay. We have, for example, libelous and cruel attacks in the Chronicle on our number-one celebrity, the author Danielle Steel, alleging that she is a "snob" despite the millions she has spent on our city's homeless and mentally ill over the past decades.
This is a very dangerous drift in our American thinking. Kristallnacht was unthinkable in 1930; is its descendant "progressive" radicalism unthinkable now?
*****
*****
Devils Possessed and Mind Controlled
*****
Satanic Temple Looking to Build Statue of Baphomet at Oklahoma State Capitol
*****
http://www.wanttoknow.info/mindcontrol
A CIA document dated 10 Feb 1954 [4] describes an experiment on the creation of unsuspecting assassins: "Miss [deleted] was then instructed (having expressed a fear of firearms) that she would use every method at her disposal to awaken Miss [deleted] (now in a deep hypnotic sleep) and failing this, she would pick up a pistol and fire it at Miss [deleted]. She was instructed that she would not hesitate to "kill." Miss [deleted] carried out these suggestions including firing the (unloaded) gun at [deleted]. After proper suggestions were made, both were awakened. Miss [deleted] expressed absolute denial that the foregoing sequence had happened." BB 36, 37
MKULTRA grew into a mammoth undertaking. The nature of the research included these specific problems:
Can we create by post-H (hypnotic) control an action contrary to an individual's basic moral principles?

Can we "alter" a person's personality? Can we guarantee total amnesia under any and all conditions?

Could we seize a subject and in the space of an hour by post-H control have him crash an airplane?

Can we devise a system for making unwilling subjects into willing agents and then transfer that control to untrained agency agents in the field by use of codes or identifying signs? NB 13, 14, 28  [5]
In a 1971 Science Digest article [6], Dr. G.H. Estabrooks states, "By the 1920's clinical hypnotists learned to split certain individuals into multiple personalities like Jeckyl-Hydes. During WWII, I worked this technique with a Marine lieutenant I'll call Jones. I split his personality into Jones A and Jones B. Jones A, once a 'normal' Marine, became entirely different. He talked communist doctrine and meant it. He was welcomed enthusiastically by communist cells, and was deliberately given a dishonorable discharge. Jones B was the deeper personality, knew all the thoughts of Jones A, and was 'imprinted' to say nothing during conscious phases. All I had to do was hypnotize him, get in touch with Jones B, and I had a pipeline straight into the Communist camp." BB 167-169  For more on CIA mind control projects, click here.
*****
Miley's image has been heavily marketed by Disney since the days she took on the role of Hannah Montana – a girl who (appropriately enough) had a stage alter persona, with a different wig. Hannah Montana products often had butterflies on them, a slick reminder of how she was a Disney programming slave.
Read more at http://vigilantcitizen.com/musicbusiness/mtv-vmas-2013/#uIuex5uxb7OkmyBH.99
MTV VMAs 2013: It Was About Miley Cyrus Taking the Fall
Watching the footage it looks like Taylor doesn't know whether to laugh, cry or close her eyes. We hear you Taylor
*****
The 2014 Grammy Awards featured a black magic witchcraft ritual disguised as a Katy Perry performance. Surprised? You shouldn't be. This has been going on for years. We'll look at the Illuminati Agenda pushed in the 2014 Grammy Awards.
">
This year's Grammy Awards apparently had something for everyone. While old-school rockers might have enjoyed seeing Paul McCartney, Ringo Starr, Willie Nelson and Metallica performing live, it is the current industry puppets who reach the youth. And it is their performances that are riddled with symbolism and messages. Unlike the older singers, the performances given by Beyoncé, Katy Perry, and even Mackelmore, were not strictly about the music. Their performances were vehicles to push the Illuminati-sponsored Agenda.
For years, I've been stating that music awards ceremonies are a celebration of what the Illuminati industry stands for, as their choreographed format offers the industry an opportunity to imprint the collective mind with specific messages and symbolism. After each award season, I notice a growing number of people realizing that something is "off" with the music industry and that it promotes a specific set of values and attitudes. Is the public getting wiser or is it just all becoming too obvious to ignore? Whether the case may be, the show prompted people such as Former University of Alabama quarterback A.J. McCarron to tweet:
*****
Huff Po:  Authorities Dismantle International Pedophile Ring
My comment:  Now if they would just dismantle the one known as the Roman Catholic Church, we'd be making progress.
Huff Po:  Pope Benedict Defrocked 400 Priests For Sexual Abuse
My comment:  Just the tip of the iceberg Bennie
*****
Auguries of Ignorance ~ William Blake

To see a world in a grain of sand,
And a heaven in a wild flower,
Hold infinity in the palm of your hand,
And eternity in an hour.

A robin redbreast in a cage
Puts all heaven in a rage.

A dove-house fill'd with doves and pigeons
Shudders hell thro' all its regions.
A dog starv'd at his master's gate
Predicts the ruin of the state.

A horse misused upon the road
Calls to heaven for human blood.
Each outcry of the hunted hare
A fibre from the brain does tear.

A skylark wounded in the wing,
A cherubim does cease to sing.
The game-cock clipt and arm'd for fight
Does the rising sun affright.

Every wolf's and lion's howl
Raises from hell a human soul.

The wild deer, wand'ring here and there,
Keeps the human soul from care.
The lamb misus'd breeds public strife,
And yet forgives the butcher's knife.

The bat that flits at close of eve
Has left the brain that won't believe.
The owl that calls upon the night
Speaks the unbeliever's fright.

He who shall hurt the little wren
Shall never be belov'd by men.
He who the ox to wrath has mov'd
Shall never be by woman lov'd.

The wanton boy that kills the fly
Shall feel the spider's enmity.
He who torments the chafer's sprite
Weaves a bower in endless night.

The caterpillar on the leaf
Repeats to thee thy mother's grief.
Kill not the moth nor butterfly,
For the last judgement draweth nigh.

He who shall train the horse to war
Shall never pass the polar bar.
The beggar's dog and widow's cat,
Feed them and thou wilt grow fat.

The gnat that sings his summer's song
Poison gets from slander's tongue.
The poison of the snake and newt
Is the sweat of envy's foot.

The poison of the honey bee
Is the artist's jealousy.

The prince's robes and beggar's rags
Are toadstools on the miser's bags.
A truth that's told with bad intent
Beats all the lies you can invent.

It is right it should be so;
Man was made for joy and woe;
And when this we rightly know,
Thro' the world we safely go.

Joy and woe are woven fine,
A clothing for the soul divine.
Under every grief and pine
Runs a joy with silken twine.

The babe is more than swaddling bands;
Every farmer understands.
Every tear from every eye
Becomes a babe in eternity;

This is caught by females bright,
And return'd to its own delight.
The bleat, the bark, bellow, and roar,
Are waves that beat on heaven's shore.

The babe that weeps the rod beneath
Writes revenge in realms of death.
The beggar's rags, fluttering in air,
Does to rags the heavens tear.

The soldier, arm'd with sword and gun,
Palsied strikes the summer's sun.
The poor man's farthing is worth more
Than all the gold on Afric's shore.

One mite wrung from the lab'rer's hands
Shall buy and sell the miser's lands;
Or, if protected from on high,
Does that whole nation sell and buy.

He who mocks the infant's faith
Shall be mock'd in age and death.
He who shall teach the child to doubt
The rotting grave shall ne'er get out.

He who respects the infant's faith
Triumphs over hell and death.
The child's toys and the old man's reasons
Are the fruits of the two seasons.

The questioner, who sits so sly,
Shall never know how to reply.
He who replies to words of doubt
Doth put the light of knowledge out.

The strongest poison ever known
Came from Caesar's laurel crown.
Nought can deform the human race
Like to the armour's iron brace.

When gold and gems adorn the plow,
To peaceful arts shall envy bow.
A riddle, or the cricket's cry,
Is to doubt a fit reply.

The emmet's inch and eagle's mile
Make lame philosophy to smile.
He who doubts from what he sees
Will ne'er believe, do what you please.

If the sun and moon should doubt,
They'd immediately go out.
To be in a passion you good may do,
But no good if a passion is in you.

The whore and gambler, by the state
Licensed, build that nation's fate.
The harlot's cry from street to street
Shall weave old England's winding-sheet.

The winner's shout, the loser's curse,
Dance before dead England's hearse.

Every night and every morn
Some to misery are born,
Every morn and every night
Some are born to sweet delight.

Some are born to sweet delight,
Some are born to endless night.

We are led to believe a lie
When we see not thro' the eye,
Which was born in a night to perish in a night,
When the soul slept in beams of light.

God appears, and God is light,
To those poor souls who dwell in night;
But does a human form display
To those who dwell in realms of day.
Kids snorting Smarties isn't on the level of vodka-soaked tampons, but it does give outraged parents an excuse to say, "Don't be a dumb-dumb, don't snort Smarties," so it's a real, DEADLY trend. Feel the paranoia.
Officials at a Portsmouth Middle School in Rhode Island warned parents last week that they recently became aware of a trend where students were crushing the classic candies into a "fine powder" while still in the wrapper, then either putting the powder in their mouths and exhaling it through the mouth or nose like cigarette smoke, or using a straw or rolled up piece of paper to snort the powder as if it were cocaine.
"We have recently become aware of an unsafe, new trend among some of our middle school students — smoking or snorting the candy, Smarties. Our research has taught us this is a widespread phenomenon and is the subject of many You-Tube videos," read the email addressed from Portsmouth Middle School. (Via)
The email went on to provide a bulleted list of potential health risks associated with the practice: cuts, infection, scarring of the nasal cavity, irritation of the lungs, allergic reaction and raised risk for turning to other substances like cigarettes or drugs that can be snorted. One eyebrow-raising health risk the letter pointed to was increased odds for possible maggot infestation in the nose. The email cited the Mayo Clinic's Dr. Oren Friedman, who purportedly said maggots may feed on the sugary dust wedged inside the nose. (Via)
– See more at: http://healthydebates.com/new-trend-cool-kids-snorting-smarties/#sthash.geiBhRm5.dpuf