January 22, 2014
Here are men going afar to marvel at the heights of mountains, the mighty waves of the sea, the long courses of great rivers, the vastness of the ocean, the movements of the stars, yet leaving themselves unnoticed."
– St. Augustine
The air took on an acrid odor, and many of the city's commuters wore industrial strength face masks as they hurried to work.

'I couldn't see the tall buildings across the street this morning,' said a traffic coordinator at a busy Beijing intersection who gave only his surname, Zhang. 'The smog has gotten worse in the last two to three years. I often cough, and my nose is always irritated. But what can you do? I drink more water to help my body discharge the toxins.'

The density of PM2.5 was about 350 to 500 micrograms Thursday midmorning, though the air started to clear in the afternoon. It had reached as high as 671 at 4 a.m. at a monitoring post at the U.S. Embassy in Beijing.

That is about 26 times as high as the 25 micrograms considered safe by the World Health Organization, and was the highest reading since January 2013.

In the far northeastern city of Harbin, some monitoring sites reported PM 2.5 rates of up to 1,000 micrograms in October, when the winter heating season kicked off.

Beijing reported 58 days of serious pollution last year, or one every six to seven days on average, Xinhua quoted Zhang Dawei, director of the Beijing Municipal Environmental Monitoring Center, as saying.

China has drawn up dozens of laws and guidelines to improve the environment but has struggled to enforce them in the face of powerful enterprises.
Chinese Citizens Watch Giant Screens of Artificial Sunrise
January 19th, 2014
Via: CNBC:
A new report shows that 64 percent of Chinese millionaires have either emigrated or plan to emigrate—taking their spending and fortunes with them. The United States is their favorite destination.
The report from Hurun, a wealth research firm that focuses on China, said that one-third of China's super rich—or those worth $16 million or more—have already emigrated.
The data offer the latest snapshot of China's worrying wealth flight, with massive numbers of rich Chinese taking their families and fortunes overseas. Previous studies show the main reasons rich Chinese are leaving is to pursue better educations for their kids, and to escape the pollution and overcrowding in urban China.
Why Is Obama Purging So Many High Ranking Military Officials
800k Children in UK Fingerprinted without Parental Knowledge or Consent
Era of Cyborgs Has Begun; Google Contact Lenses
Facebok game predicts mind controlled Smart Homes
Cyber attack that sent 750k malicious emails traced to hacked refrigerator, TVs and home routers
Ukraine Tracks Protesters Through Cellphones
Virtually all U.S. senators, and most of the representatives in the House, are members of the top 1 percent when they arrive, are kept in office by money from the top 1 percent, and know that if they serve the top 1 percent well they will be rewarded by the top 1 percent when they leave office. By and large, the key executive-branch policymakers on trade and economic policy also come from the top 1 percent. When pharmaceutical companies receive a trillion-dollar gift–through legislation prohibiting the government, the largest buyer of drugs, from bargaining over price–it should not come as cause for wonder. It should not make jaws drop that a tax bill cannot emerge from Congress unless big tax cuts are put in place for the wealthy. Given the power of the top 1 percent, this is the way you would expect the system to work.
Fukushima
Why U.S. Government Won't Talk About Fukushima
GE Made Fukushima Reactors Tied to 23 Same Reactors in U.S.
CA Official: Make Radiation Tests on CA Coast Public
Right Hand/Left Hand. While distracted by Bridgegate, TPP Fast Tracked!!
Few are aware, however, that in the twilight of his public life, the former Israeli PM gave a speech which potentially could have changed the course of Israeli-Palestinian relations, but instead faded into the background of the political stalemate static indicative of negotiations which have achieved nothing since they began in earnest over 20 years ago.
In a Zionist context, to have Ariel Sharon – an aggressive operator and war hero, known to Arabs simply as "The Butcher", say what he said – was almost unthinkable at the time:
"That we cannot continue holding under occupation… and it is occupation, you might not like this word, but it's really an occupation – to hold 3.5 million Palestinians under occupation, is, in my opinion, a very bad thing. It cannot continue for ever. Do you want to remain, for ever, in Jenin, in Nablus, in Ramallah, in Bethlehem, for ever?"
Did Ariel Sharon have a political, or spiritual epiphany in his final consciousness days? His comments must have rocked the Zionist establishment at the time.
Aside from many delegates getting up and walking out of the press conference in open disgust, pay close attention to the angry expressions from Benjamin Netanyahu as Sharon effectively reverses 40 years of Israeli expansionist and ethnic cleansing policy in one swoop…
Lying Zionists cover up Sharon's horrific words, deeds
Ariel Sharon embodied the pure, unmitigated evil of Zionism. He was a war criminal, a terrorist, a mass murderer, a torturer, a rapist. The French term "genocidaire" also applies.
But Sharon did have one redeeming quality: He occasionally told the awful truth about himself and his country.
During the 1982 invasion of Lebanon, Sharon vented his real feelings in public.
In a Hebrew-language interview with Israeli writer Amos Oz, Sharon said:
"Even today I volunteer to do the dirty work for Israel, to kill as many Arabs as necessary, to deport them, to expel and burn them, to have everyone hate us, to pull the rug out from underneath the feet of the Diaspora Jews, so that they will be forced to run to us crying. Even if it means blowing up a few synagogues, I don't care. And I don't mind if after the job is done you put me in front of a Nuremberg Trial and then jail me for life. Hang me if you want, as a war criminal… What your kind doesn't understand is that the dirty work of Zionism is not finished yet, far from it."
The interview was published in Hebrew in the Israeli newspaper Davar on December 17th, 1982, later reprinted in a book. The Sharon quotes were attributed to "Z," a high-level, heavy-set, 50-year-old Israeli officer "with a certain history" who was also a prosperous farmer. Israeli readers knew that "Z" was obviously Ariel Sharon, who perfectly fit the description, and whose real feelings about the subjects discussed in the interview were not exactly a state secret.
A Weed is one of the most useful medicines on the planet
vaccines
All Vaccines are Contaminated
"In religion and politics people's beliefs and convictions are in almost every case gotten at second-hand, and without examination, from authorities who have not themselves examined the questions at issue but have taken them at second-hand from other non-examiners, whose opinions about them were not worth a brass farthing." — Mark Twain
Michael Aquino; Official U.S. Military Satanist
"The bomb will not start a chain reaction in the water, converting it all to gas and letting all the ships on all the oceans drop down to the bottom. It will not blow out the bottom of the sea and let all the water run down the hole. It will not destroy gravity. I am not an atomic playboy."
– Vice Admiral William P. Blandy, Bikini bomb test commander, July 25, 1946
Fracking Wells Abandoned in Boom/Bust Cycle. Who Will Pay to Cap Them?
As Above

Comparison of the Bosnian pyramids with others across the world – Source: http://www.bosnianpyramid.com/
http://www.eclisseforum.it/forum/bosnian-pyramids-english-translation/bosnian-pyramids-english-translation-2191/
So Below
Underwater Civilizations of the Past; Are we Next?
The Yonaguni-jima Kaitei Chikei, literally translated as "Yonaguni Island Submarine Topography," is an underwater mystery off the coast of the Ryukyu Islands, Japan. The massive underwater rock formation is speculated to have existed for more than 10,000 years, but whether the formation is completely man-made, entirely natural, or has been altered by human hands is still up for debate.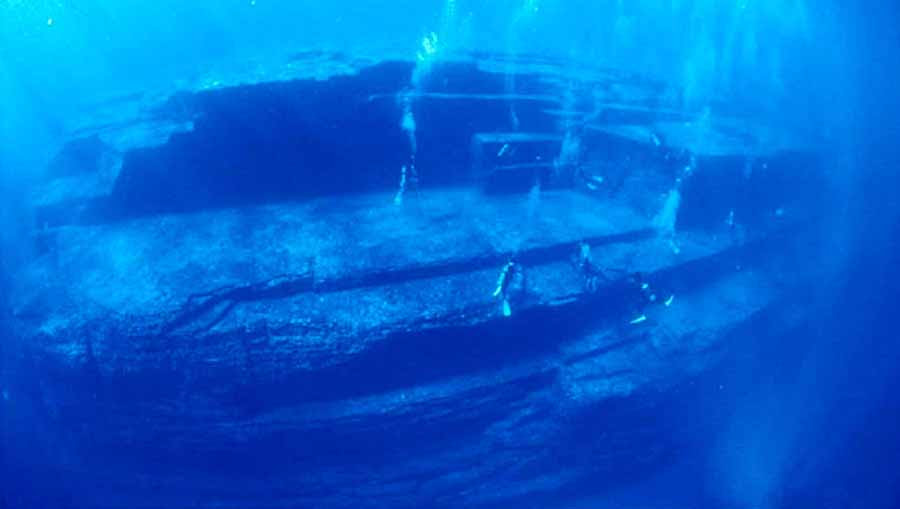 The monument was first discovered in 1986 by a diver searching for a good spot to observe hammerhead sharks. After its discovery, Masaaki Kimura, a marine geologist at the University of the Ryukyu, explored the monument for nearly two decades. Kimura remains convinced that the site was carved thousands of years ago, when the land mass was above water. According to Kimura the Yonaguni's numerous right angles, strategically placed holes and aesthetic triangles are signs of human alteration. He also claims that carvings exist on the monuments, resembling Kaida script. He believes that a pyramid, castles, roads, monuments and a stadium can be identified within the structure – which for him is evidence that the monument is what remains of the Lost Continent of Mu, the Japanese equivalent to Atlantis.
As with most theories of lost civilizations, Kimura has met with controversy about his beliefs. Robert Schoch, a professor at Boston University, has dived at the site and explains that the formation is "basic geology and classic stratigraphy for sandstones, which tend to break along planes and give you these very straight edges, particularly in an area with lots of faults and tectonic activity." Sandstone structures typically erode into rigid formations, and it is unlikely that the structure was entirely man-made, if man-made at all, because the visible structure is connected to a hidden rock mass. Geology and strong currents may explain the peculiar shape of the rock, but they cannot account for the pottery, stone tools and fireplaces found there, possibly dating back to 2500 BCE. However, the items merely show that the area was once inhabited and do not indicate that the monument is anything other than a natural geological formation.