Most will never see the crimes of the weathermakers on radar images as most of these images are "filtered" out. If the public were to regularly see the blatantly visible toxic particulate trails laced into their clouds and storm systems (as is clearly shown in the image on the left below) they would already be rioting in the streets to stop the lethal contamination and manipulation of the Earth's life support systems.
Why would the climate engineers migrate moisture in part of a storm (usually the leading of the storm) and then allow rain to fall later in the storm? Because there is often a great deal of moisture is in the front of the storms and the "AR" (atmospheric river) can lead the storm, this is where the "seeding" is most effective. The goal of "SRM" (solar radiation management) is to block as much of the sun's incoming thermal energy as possible by creating as much cloud cover as possible (cloud enhancement geoengineering).
So how much area can the climate engineers cover with mostly rainless aerosolized (and toxic) cloud cover? The satellite image below should be as shocking as the images above. Much of the moisture that was migrated right over the west on 12-2-2014 was then scattered across vast regions of the country in the form of rainless aerosolized cloud cover.
It is up to us, the people, to expose the insanity and criminality of those who currently rule the world. If we all pull together, their days in power will be numbered.  ~ Dane Wiggington
The US and Canada are both actively and passively pressuring scientists and agencies to suppress data they do not want released to the public. Such pressure goes right down the line to those in the field. I know a California Fish and Game biologist that is reprimanded if she even tries to bring up the issue of climate engineering or the fact that the streams and waterways in California are flowing with aluminum.
I have been in the forest with USDA scientists testing soils and coming up with results that showed horrifically higher PH values than the historical norms. These scientists will not speak out as they know it is a bad career decision or worse.
I spoke to a NOAA scientist that said "we know about the climate engineering and are alarmed as hell, but we have no first amendment protection so we don't know what to do". This is the world we live in, this is the kind of governments we have. The public believes the appropriate experts and agencies would tell them of any environmental dangers of concern, but this is not reality. The control our government (and others) currently have over the flow of information is nearly total. Our "elected officials" are generally doing the bidding of the power structure.
*****
Have you heard ONE word, just one about the ongoing GREATEST ONGOING MAN MADE DISASTER IN WORLD HISTORY from our leaders or press or neighbors???? ONE???
ENE News:  Nuclear Scientist: Fukushima an apocalyptic disaster that will haunt future generations; World now an experimental lab with humans as guinea pigs — Japan Gov't Report: Fukushima is worse than 3/11 quake and tsunami
from Op-Ed by Quamrul Haider, Ph.D., Chair of Dept. of Physics at Fordham University, Dec 4, 2014 (emphasis added):
The fraternity of nuclear scientists… create the impression… their extremely risky projects have been carefully thought out in every detail and are inspired by the spirit of greatest responsibility… A large section of the scientific community… believes [their accident simulations are] about as reliable as tomorrow's weather forecast [and] that by building nuclear power plants in populated areas, the whole world becomes an experimental laboratory with human beings as guinea pigs.
There is always the possibility of a major disaster. The basic difference between nuclear and other industrial accidents lies in the long-range repercussions… one could forget about the havoc wrought, for example, by the explosion of a gas pipeline or the breaching of a dam… But an accident in a nuclear power plant, such as a reactor getting out of control, is capable of doing more than immediate harm. Examples of the deadly long-term effects of a reactor accident are Chernobyl and Fukushima [which] will linger on for ages to haunt the future generations. Among the survivors there will be many cases of permanent sterility, increase of genetic mutation in our progenies, and a shortened life span as a result of cancer and other radiogenic diseases.
[It's] irresponsible and misleading to suppress the consequences of radiation… [A]ttempts are made… to blind the people by equating nuclear accidents with more familiar hazards… an unlimited risk is falsely portrayed as a limited one and glossed over in a manner that is not only unconscionable, but also unpardonable. These deceptions are further camouflaged by the way in which they are presented to the public… the far-reaching consequences of lethal radiation are overly simplified. In the post-Chernobyl and post-Fukushima era, these… do not hold water.
Wars, plagues, famines and natural disasters were known as the four horsemen of the apocalypse… After Chernobyl and Fukushima, nuclear accidents can be added [as another] horseman of the apocalypse.
Critics describe nuclear reactor as one of the most dangerous technological beasts that mankind has devised and nuclear accident as "A Nuclear War without a War
*****
Police Deliver Groceries To Struggling Grandma Caught Shoplifting To Feed Family Of 6
This kindhearted officer's unique approach to enforcing the law meant helping someone who needed it most.
Helen Johnson, of Tarrant, Alabama, went to a grocery store last Saturday to buy eggs. The 47-year-old had been in a tough financial spot and found that she was 50 cents short of being able to afford the carton of eggs. Johnson says she was desperate, as her grandchildren hadn't eaten in two days, according to WIAT.
"I actually thought that if I didn't feed those babies, they were going to die," she told the outlet.
So the grandmother decided to put three eggs in her jacket pocket, WIAT reported. However, the eggs broke and a store employee who caught her stealing called the cops. When Tarrant Police Officer William Stacy arrived, Johnson expected him to arrest her — she thought wrong.
"She started crying," Stacy told ABC 33/40. "She said, 'I need help. I need help Officer Stacy, I need to put food in my babies' stomachs.' That's what got me. That's what hit me the hardest. I told her [to] park on the side of the parking lot, I ran in, bought the carton of eggs, came back outside, handed them to her and she got very emotional, very apologetic."
 The officer's kind act was
caught on camera
by a bystander who posted the clip online. It quickly went viral racking up more than 650,000 views.
Johnson's family of six, including her two daughters, two grandchildren and a niece, have been living off of disability and welfare. The welfare check she was supposed to receive this month had gotten lost in the mail, according to AL.com.
And while Stacy's decision to lend a helping hand was a generous one, the kindness didn't stop there. The Tarrant Police Department has since signed Johnson's family up for a local toy drive and collected food donations from the community, eventually delivering two truckloads of groceries to the 47-year-old's apartment.
"I was just getting eggs and now that's saved my life," Johnson told AL.com. "I've never been more grateful in my life. I'm so overwhelmed with the goodness of these people."
****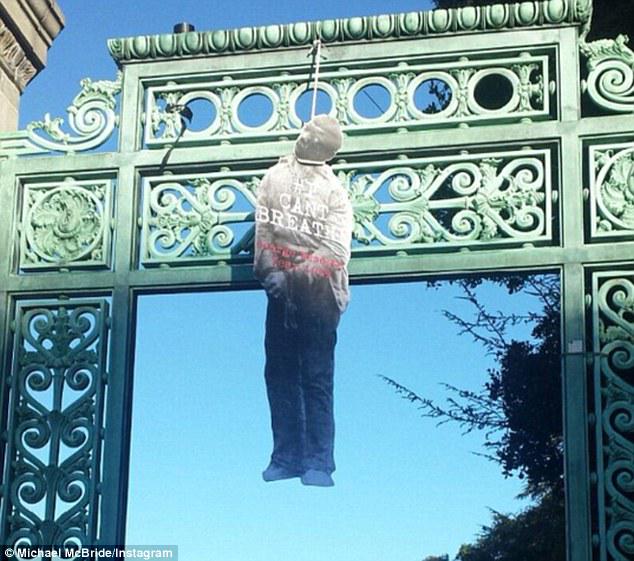 Students at the University of California at Berkeley awoke Saturday morning to find three cardboard cutouts of lynching victims hanging from nooses on campus and from a nearby tree, according to reports.
The effigies — two of which hung from Sather Gate — included the names of historical lynching victims and the dates of their death, and at least one of the cutouts had "I Can't Breathe" printed on the front, according to the Associated Press.
That slogan, which has become the national rallying cry for demonstrators protesting Eric Garner's recent death at the hands of New York police, led many to conclude that the effigies were linked to an off-campus demonstration that took place Saturday against police brutality.
Regardless of their intent, the effigies arrived during a week of heightened racial tensions. Last week the FBI agreed to join an investigation into the death of a black North Carolina teen who was found hanging from a swing set in a majority-white neighborhood in August.
UC Berkeley spokeswoman Amy Hamaoui told the AP that police are trying to determine who hanged the effigies.
"We just hope it's someone who wanted to bring attention to the issue," Spencer Pritchard, a UC Berkeley student and an organizer of the demonstration, told the AP.
One of the figures printed on the cutout was that of Laura Nelson, a black woman lynched in Oklahoma in 1911, according to the San Francisco Chronicle. Nelson's 18-year-old son, Lawrence, also was hanged by a white mob that broke into their jail cell, the paper added.
*****
An agent provocateur is an undercover agent who acts to entice another person to commit an illegal or rash act or falsely implicate them in partaking in an illegal act.

Wikipedia
****
(There is a special place in hell for this man and a huge Karma in this country for not stopping the insanity when the guys that caused 9/11 torture others with impunity, then get on national TV and say they would kill and torture again.)
The former vice president added that he was not concerned about the capture or interrogation of foreign nationals who were ultimately revealed to be innocent.
"I have no problem as long as we achieve our objective and our objective is to get the guys who did 9/11 and it is to avoid another attack against the United States," he said.
The comments come after the release of a lengthy report spearheaded by Democrats on the Senate Intelligence Committee. That document asserted that interrogation tactics used on terror suspects were more brutal than previously known.
Pressed by host Chuck Todd about whether the practice of "rectal rehydration" was acceptable, Cheney acknowledged that it was not part of the interrogation program. But, he added, "I believe it was done for medical reasons" — a notion that has been questioned by medical experts.
*****
The Senate report on torture created a tsunami of media coverage this week. The American public hasn't been so shocked by evidence of the U.S. torture program since the Abu Ghraib photos of 2004. The program is far worse than previously disclosed. Greater numbers of victims have been tortured for longer periods and in ways that rival the most infamous tortures in history ("rectal feeding"). But one falsehood gets repeated as fact by even in the most serious reporters, namely, that the torture program stopped years ago. It has not.
****
Those planning on visiting (or merely driving around) Washington or New York City today may want to consider a plan B. As Reuters reports, "thousands of demonstrators were expected in Washington and New York on Saturday to protest the killings of unarmed black men by U.S. police and to urge Congress to protect citizens. Organizers said the protests would be among the largest over police tactics and the killings of black males by officers in New York, Cleveland and Ferguson, Missouri. "It's open season on black people now," New York march co-organizer Umaara Elliott said in a statement. "So we demand that action be taken at every level of government to ensure that these racist killings by the police cease."
 It Wasn't Just The Bush Years, Obama Oversees A Huge Torture Program Today
*****
With CIA torture programs now fully exposed to the world, a common background theme has emerged. The CIA torture report by the Senate Select Committee on Intelligence is a summary of the original report which you can
read
for yourself. In the first few pages of the Senate report we are quietly reminded that the backdrop which set the stage for the justification of torture is 9/11. More specifically, the 9/11 "official story" narrative. The much questioned, challenged, and refuted official story narrative that is. The report quietly pulls the reader in with a  passionate recollection of 9/11:
I recall vividly watching the horror of that day, to include the television footage of innocent men and women jumping out of the World Trade Center towers to escape the fire. The images, and the sounds as their bodies hit the pavement far below, will remain with me for the rest of my life.
Reading down further in the report, the 9/11 official story meme continues fully settling on the clear determined narrative that would be used in the CIA's attempt to justify torture by reminding the audience of the "terrorist plots"
It is worth remembering the pervasive fear in late 2001 and how immediate the threat felt. Just a week after the September 11 attacks, powdered anthrax was sent to various news organizations and to two U.S. Senators. The American public was shocked by news of new terrorist plots and elevations of the color-coded threat level of the Homeland Security Advisory System. We expected further attacks against the nation.
Do you remember now? The day when (CIA asset) Bin Laden and his (CIA) Al Qaeda terrorist (supposedly) took over four commercial planes and strategically overpowered the world's greatest military, all from a cave in Afghanistan? For anyone with any sense of logic and reason, just think for a minute. We are asked to believe that the same Al Qaeda that the establishment media claims did 9/11 is STILL alive and well, and fully operational, never having missed a beat fighting against the world's most sophisticated military, and returning fire (even-steven and tit-for-tat) while keeping up on supplies and ammo. All of this for over 13 plus years!!
One problem with this 9/11 backdrop 'war on terror' narrative is that long after the war in Afghanistan seemed like it should have been over, the war (or more correctly, the occupation) mysteriously and illogically continues without missing a beat. Even as humanity has witnessed 13 years of a "war" with literally no evidence of a war, the "war" continues. That's right, for over 13 years, while the CIA torture program rolls on fully implemented, no one has ever produced, authenticated and validated video proof of a war in Afghanistan showing the opposition clearly firing at U.S. troops in a war-like scenario and sustaining themselves in the heat of battle. It's been over 13 years and yet there is still no clear-cut footage showing the Al Qaeda tanks, artillery and grunts running around fighting hard against their U.S. enemies. It's been 13 years, where is this footage??
****
My Space, Facebook, Instagram, Selfie's, etc. ad naseum.
nar·cis·sism
excessive or erotic interest in oneself and one's physical appearance.

extreme selfishness, with a grandiose view of one's own talents and a craving for admiration, as characterizing a personality type.

self-centeredness arising from failure to distinguish the self from external objects, either in very young babies or as a feature of mental disorder.
'One also must consider the very real possibility that these two men might be suffering from one of many mental conditions, including Body Dysmorphic Disorder, that are afflicting millions of smart phone users worldwide…
Everyone is taking selfies now. Should we really be worried about this trend, or is it just a case of people being empowered on a microblogging platform like Twitter, or Instagram? Writer Donna Highfill explains, "I have run into at least 10 people recently who have stopped on fast-moving, heavily-populated sidewalks to take a #selfie.
There is no historical building behind them, no beautiful landscape, no real reason to take a picture of themselves other than the fact that they can reverse the camera on the phone, gaze at their own visage, and then share it on social media so the rest of the world can gaze upon it as well."'
****
The $303 Trillion In Derivatives That US Taxpayers Are On The Hook For
Following the passage of the Crominbus on Thursday night in a last minute "nailbiter" when the Federal spending bill got just one vote more than the required majority, it was off to the Senate. And late last night, proving that the Senate can work on weekends when a piece of Citigroup-penned legislation is on the table, in a 56-40 vote (21 democrats, 18 republicans, 1 independent voting No), the Senate joined the House in voting itself $1.1 trillion for the next 9 months, with the bill now heading for the final signature: Obama's.
There is some argument whether the executive will join the legislative in confirming the US government is now (and always has been) merely a puppet of Wall Street, although we expect all it will take Jamie Dimon is just one more phone call of "encouragement" to Obama to make sure Wall Street's will is done in the White House.
*****
$18 Trillion Debt, 14% of the country on food stamps. Wages in decline, yet money for genocidalists and money for more war against innocents because the U.S. is the NWO Imperial Military Army for global power and control…and our children will pay and pay and pay.
'The US Senate has approved a multi-billion-dollar military spending bill that includes $350 million for Israel's Iron Dome missile system.
The Senate passed the bill on Friday by a 89-11 vote. The bill was sent to the White House for President Barack Obama's signature.
The 2015 defense authorization bill also authorized $521.3 billion for Defense Department operations, and about $64 billion for overseas military operations.'
Read more: US to give Israel $350mn for Iron Dome
****